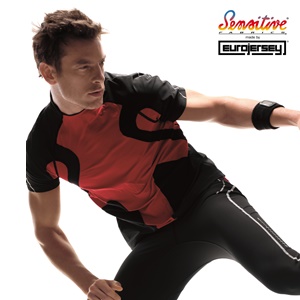 Thanks to their unique structure, obtained using a patented process ensuring an ultra-flat surface, Sensitive® Fabrics can undergo treatments or finishes which add value to garments by raising their performance and aesthetic qualities.
WICKING: Moisture wicking finishing is applied to Sensitive® Fabrics to pull moisture away from the skin. The fabric draws sweat and perspiration off of the skin and out to the exterior of the fabric, offering maximum freshness and the highest level of comfort.
ACTIVE COMFORT: The inner surface of Sensitive® Fabrics is treated with hydrophilic finish that promotes absorbance and distribution of perspiration, which will not be visible on the outside while the outer surface of Sensitive® Fabrics is treated with hydrophobic finish making it stain and water- repellent.
DURABLE WATER REPELLENT: Sensitive® Fabrics is finished with non fluorinated water repellent treatment that effectively repels water and common water based liquids. Ideal for high performance outdoor garments.