A stand-out feature on the EUROJERSEY ISPO stand is a collection of iconic garments of elevated technological content which is being presented in collaboration with two leading brands: NTT the sports apparel market leader and REDA, an Italian company renowned for its innovation in wool textiles. Outfits that express the countless potential of the new technologies developed by EUROJERSEY with Sensitive® Fabrics, testifying to the versatility and across-the-board applications for various sports and urban fitness activities: CARDIO, ATHLEISURE.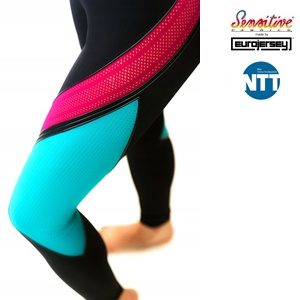 Sensitive ® Fabrics CARDIO Outfits
The heat-sealed tape applied directly to the flat surface of Sensitive® Fabrics evidences body muscles and provides them with strategic support, facilitating movements even when performance limits are being stretched. Without constriction, they adapt naturally to the body shape, sculpting the figure as they provide correct support and graduated compression.
NTT (New Textile Technologies GmbH) uses its innovative and patented 'SensElast® Seamfree' technology to make fabrics as comfortable and dynamic as possible, in combination with taping, the advanced method expertly applied to the surfaces of Sensitive® Fabrics.
ISPO is the launching platform for women's technical garments designed for Cardio sports activities, which exploit the elevated performance of innovative Sensitive® Sculpt fabric and are backed up by SensElast® Velvet technology by NTT, enabling maximum body adherence with specific reinforcement in order to enhance support and comfort. The iridescent trims in Silicon SensElast® 3D and SensBond® Silver endow these garments with a contemporary appeal that is technological through and through. Furthermore, the introduction of an integrated sensor based on SenElast® Bond technology helps improve
and accelerate muscular recovery and enables the pulse rate and performance to be monitored during training sessions.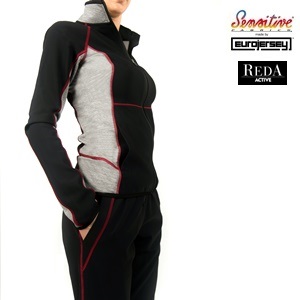 Sensitive® Fabrics ATHLEISURE Outfits
An encounter between two expressions of Italian textile excellence, EUROJERSEY a leader in the warp-knit fabric segment with Sensitive® Fabrics and Lanificio REDA a byword for innovation and eco-sustainable technology applied to Italian lifestyle products with REDA Active, has led to the creation of a new fabric which combines technical and high-performing characteristics with elegant comfort and the pleasure of wearing garments that feel like a second skin, providing comfortable sportswear that is equally well suited to urban contexts.
A functional and contemporary total look, poised between fashion and performance, made up in the new Sensitive® Plus fabric backed with Merino wool. Breathable and temperature regulating with a soft hand-feel, this fabric guarantees an excellent fit to Athleasure garments, and optimal comfort at any time of the day. A tailor-made style, fully reversible with triple needle stitching in contrasting colours, to combine functionality with aesthetics on a sporty looking outfit.
Further info about the NTT – Sensitive ® Fabrics CARDIO Outfits and REDA -Sensitive® Fabrics ATHLEISURE Outfits.