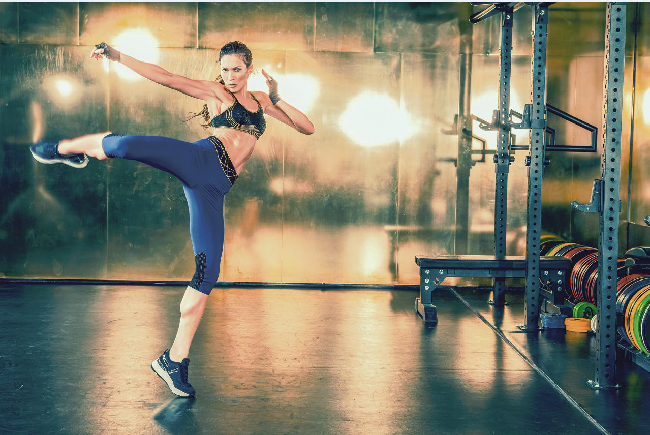 Outstanding style and defined performance. Sensitive® Fabrics go beyond the boundaries of Activewear thanks to the innovative LYCRA® SPORT PCE ™ index technology, for high-performance garments for all sports disciplines.  Eurojersey strengthens its partnership with INVISTA by presenting at ISPO Munich the application of the new LYCRA® SPORT technology based on PCE ™ index, the revolutionary measure platform that helps Activewear brands to create garments which ensures targeted performances for every sport activity.
Lightweight, breathable and with high degree of comfort, Sensitive® Fabrics by Eurojersey certified by LYCRA® SPORT are scientifically tested to allow the creation of innovative sports garments able to ensure graduated compression, perfect fit and targeted support.
THE TECHNOLOGY
INVISTA, leader in developing market-driven innovations for the textile industry and always at the forefront to spot new market trends, has upgraded its LYCRA® SPORT technology, offering to sportswear producer partners an even more innovative platform.Nowadays consumers are more oriented to a healthy lifestyle: biologic food and sports. Practicing sports is a must in a contemporary lifestyle world, it helps us to stay young and healthy as well testified by the rapid growth of the activewear segment towards innovation for the entire apparel sector. Consumers have 4 key expectations from their activewear garments, all involving comfort and performance:
Flexibility (garment stretches and moves with the wearer)
Support (shaping compression)
Feels Good effect (comfort)
Fit (stay-in-place)
Consumers are increasingly looking for clothing with targeted performances that support them during sports activities, be it training or competition, and that offer a perfect trade-off between Performance and Comfort. Sensitive® Fabrics by Eurojersey with LYCRA® SPORT PCE™ index technology certification helps activewear brands create hi-performing garments for each specific end use.
THE NEW LYCRA® SPORT PLATFORM
New LYCRA® SPORT platform combines the proven stretch technology of LYCRA® fibre with scientific testing standards that measure fabric performance – both in its length and width – helping ensure that garments made with LYCRA® SPORT technology fabrics provide the comfort and performance expected.
Each fabric is analyzed in both the directions (Width and Length) with the aim of highlighting every possible difference in terms of performance.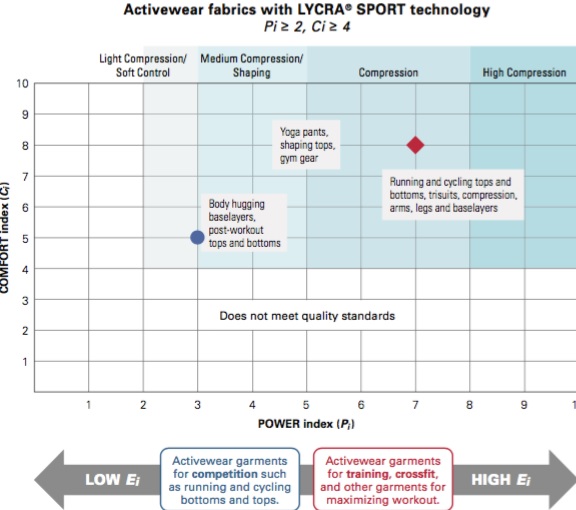 Based on new proprietary Power, Comfort and Energy indexes (PCETM), the new certification delivers a simplified rating method that assesses fabrics performance on a 1-10 scale.
POWER index (Pi) – measures the performance (degree of compression Power) delivered by the fabric on a garment.
COMFORT index (Ci) – measures the fabrics ability to move with you without feeling it, or the "second skin" effect.
ENERGY index (Ei) – rates the energy lost just moving the garment.
The combination of the rates for each index allows to draw the Identity card for each fabric.
For each fabric, the specific performance rates for POWER and COMFORT are summurized in a dedicated graphic. Fabric's ENERGY (Ei) rate, the third index, is combined with POWER and COMFORT rates to define the complete map of fabric performance.
The advantages of the new Lycra® Sport PCE™ Index Technology certification for activewear brands
The LYCRA® SPORT technology, founded on PCE™ INDEX, offers many benefits to activewear brands. Here they are the reasons to choose Sensitive® Fabrics certified by the new INVISTA certification.
LYCRA® SPORT PCE™ INDEX:
It helps make better fabric choices based on required garment performance
It helps optimize fabric performance, simplifying prototyping, increasing speed-to-market and reducing costs
It is a sustainable tool, helping to avoid over-engineering of fabrics and garments
Sensitive® Fabrics by EUROJERSEY powered by the new generation LYCRA® SPORT TECHNOLOGY are scientifically tested to create innovative garments for activewear able to deliver exceptional comfort, fit and support in garments for all kind of sport.
INFO: Eurojersey