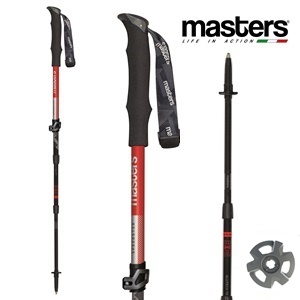 The most compact model in the collection: only 52 cm of minimal amount of space with closed sections.
This product differs from the previous and already known Speedster Calu® for the material of the telescopic sections: AluTech 7075. The AluTech 7075 alloy allows us to offer a product with high technical characteristics, as it is light, resistant to shocks and strains: this is why Speedster is part of the line developed for Trekking Ultrastrong.
More affordable than the Calu® model, Speedster – with its 4 sections – reaches its maximum extension of 130 cm and the minimum of 110 cm, heights adjustable thanks to the reliable Wing Lock system. Details such as the Palmo grip in grey and its light strap with minimal buckle give it a technical and rigorous style that well represent one of the most appreciated products by the expert hikers.
The new Tip-Top system of the support with carbide tip is ideal to quickly replace the basket.
Measure: 52 cm closed – 130 cm max extension (110 cm the minimum).
Weight: 250g
Equipped with: a pair of top baskets Ø 85 mm.