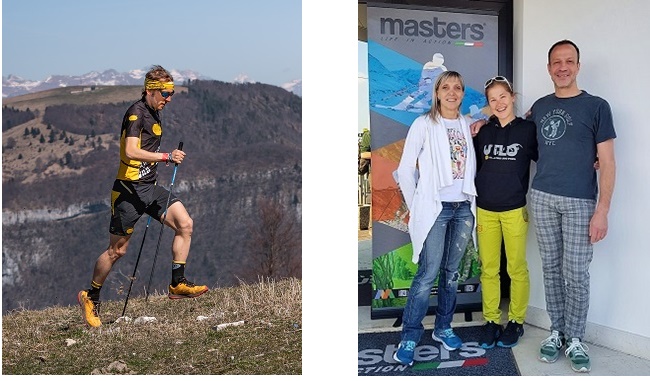 Masters, one of the greatest italian pole producers is glad to welcome Stefano Ruzza and Yulia Baykova to the masters family.
Stefano is an elite Italian trail runner, multitime winner of the Italian Ultra trail championship with the national team. In 2018 he finished the UTMB obtaining a great 7th place.
" You have to be extremely well trained and at the same time not tired, especially mentally, in order to challenge the variety of conditions of the race and arrive to the end. Using equipment that you already tested for hours and with whom you feel safe and secure is also really fundamental for me" said Stefano. For example for the poles, Stefano only uses and trains with Masters poles, that he considers super important for the Athlete and for all the trail runners that are looking for a performing yet reliable support. The Italian brand will be with Stefano in his next adventures, with advanced and innovative products.
Also the trail runner
Yulia Baykova
joins
Masters.

She was born in Russia in 1983 and moved to Italy long time ago. She started running in 2005 and in 2012 took part to her first 63 km Ultra Trail. In 2016, after winning probably her biggest battle against a serious disease that had affected her she went back to running and started training again and soon went back to racing. She infact started taking part to a great number of races like Madeira Ultra trail, Transgrancanaria, Lavaredo Ultra trail and began collecting podiums one after the other. But Julia has many passions and one of favorite is Nordic Walking the activity that is continuously gaining success thanks to its physical and mental benefits this brings to people. During her walks, Yulia can count on her favorite pole brand Masters and it's support. A must have for all the ambitious trail runners that need performance and reliability from a pole.