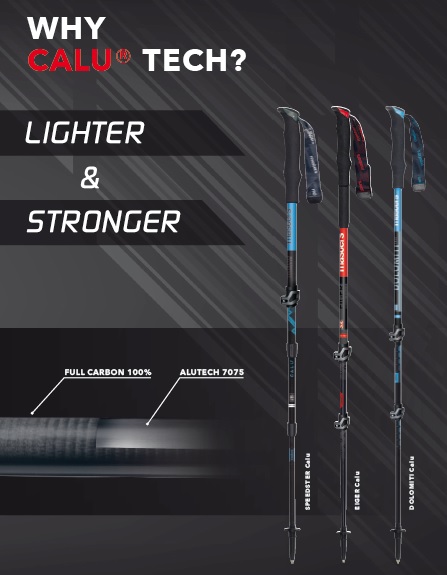 Calu®Tech Worldwide exclusive.
Calu®Tech meets the needs for lightness, strength and flexibility: the best aluminum alloy and the purest carbon are combined together to create a tube with unrivalled mechanical and physical features.
Lightweight: the carbon coating reduces the weight of the slim body in 7075 AluTech aluminum alloy. Resistant: the strength of the 7075 AluTech supports the carbon fibre increasing its flexibility and strength to counter diametrical impacts. There is no lead in this two-component material nor any other harmful elements that are often found in carbon and composite materials.

Carbon.
Carbon tubes are made with a high percentage of carbon instead of resin and its tightly texture along the section is easily visible to the naked eye. Carbon fiber permits a perfect balance between best swing and lightweight for a professional use of the poles. Carbon shafts are checked and tested internally our Company to guarantee an extreme use of our poles.

Aluminum Alloys. Alutech 7075. The aluminum and zinc alloy par excellence: lightweight and resistant to impacts, stress and torsion. Its trade name is Ergal: the perfect aluminum alloy for withstanding hot and cold temperature changes, making its use particularly popular in the aeronautical field, especially for structural parts.
Alu 5083. The 5083 aluminum alloy is mainly composed of aluminum, magnesium, manganese, iron and silicon: these elements ensure sound material performances at low and ambient temperatures and excellent resistance to corrosion and oxidation, while maintaining sound mechanical properties.
Masters poles that employ Calu®Tech:
INFO: Masters