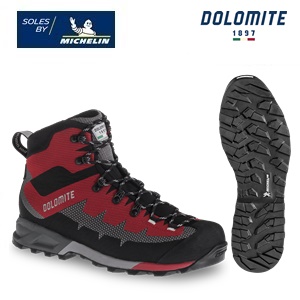 The big news this summer is Steinbock WT GTX, the jewel in the crown of Dolomite's hiking section. A light- weight, high-performance shoe, perfect for one-day excursions or mountain trail walking.
Perspair® textile technology uses "superfibres" directly in the loom, meaning the upper can be produced as a single piece, with a range of functional features. The result is an ultra-light shoe that wraps around the foot. Meanwhile, the Gore-Tex® lining ensures waterproofing and breathability.
Fresh, comfortable feet are essential on summer walks, and Climafresh arch-supports make that happen, with "Ice Capsule" technology, which helps dissipate heat and absorb damp.
A high-performance, sure-footed shoe, thanks to the innovative Michelin® All Terrain soles, which offer excel- lent impact absorption, traction and grip.
Steinbock WT GTX is the ideal shoe for trekkers who want to experience the lightness and agility of mountain life, without compromising on the essential characteristics of protection, support and stability.
Available in two colours for men and two for women.

Steinbock WT GTX is also available in the same colourways in a Low version for both men and women. Dedicat- ed to trekkers who want to feel even more agile.