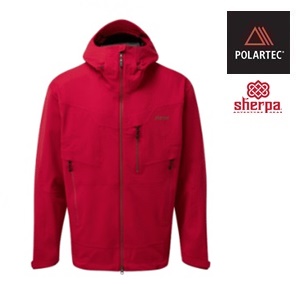 Polartec® NeoShell® is one of the exceptional elements featuring in Sherpa's new Lakpa Jacket, being unveiled at this year's ISPO.
Polartec's engineering breakthrough in breathable yet waterproof fabrics, ensures this impressively effective jacket regulates warmth and blocks out 99.9 per cent of wind. Sherpa is proud to call it the most breathable, waterproof jacket on the market. The Lakpa jacket is named in honour of Lakpa Rita, the first Sherpa to climb the highest mountain on all seven continents, and official gear tester for the Sherpa brand. Known as a "legend in his own time", Lakpa Rita is Sherpa's toughest critic and demands design and construction details specifically for serious alpine pursuits.
Polartec® NeoShell® fabric offers an unrivalled ability to stop water and wind permeation. Its revolutionary capabilities lower the internal pressure required for vapours, like sweat, to escape. This means moisture is released more easily and keeps microclimates circulating with cool air faster than other protective materials. Other features include a helmet-compatible hood with bonded brim to protect the face from all elements, seems placed away from the shoulders and hips to avoid chafing under back packs and belts, water resistant zips, and large hand pockets placed high to avoid interference with a harness.