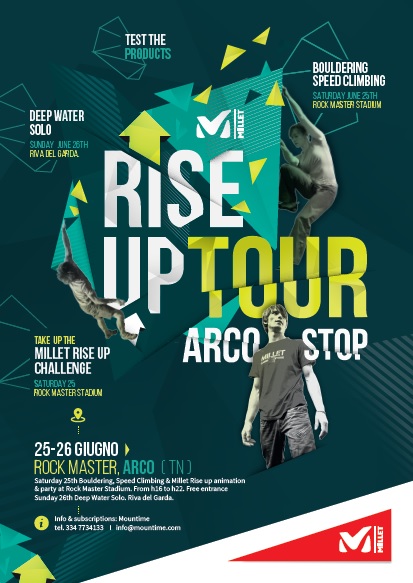 The annual two-day Millet climbing event will be back again for the fourth year in a row at the Rock Master Stadium in Arco on June 25th and 26th. Thanks to the great success of this kermesse, attended by a host of international professional climbers as well as amateurs, the event has been included in the European legs of the Millet Rise Up Tour.
The Millet Rise Up Tour in Arco will be the final leg of the Italian edition after Reggio Emilia, Milan and Rome and the fifth appointment in the International Millet Rise Up Tour, which will come to an end in Berlin on July 23rd.
The event starts on Saturday 25th at 4 p.m. with awesome bouldering and speed climbing challenges at the Rock Master Stadium in Arco (TN); on Sunday morning the competition will move to Riva del Garda, where the Deep Solo Water will take place in the spectacular venue of Falesia Serenella on Lake Garda.
As happened in the previous legs, Rise Up Contests will animate Saturday evening with fun games around the Rise Up Machine, very popular entertainment with the numerous climbers who attended the other legs of the Tour.
Don't miss the opportunity to test Millet products in the Roc Session range dedicated to climbing; there are rich prizes to be won.
INFO: Millet Rise Up Tour