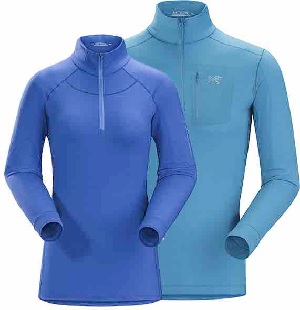 One of the most essential pieces of any alpine adventure ensemble – a good baselayer dries quickly, transports moisture away from the skin, resists odors, feels comfortable next to skin, and last for many years. For such a critical layer that is often not changed for days on end and acts like a second skin – it is often the most overlooked layer.
Designed for people who prefer Merino Wool baselayers for their comfort and anti-odor properties and for those who spend extended periods in the backcountry, ARC'TERYX proudly introduces a completely new assortment of baselayer tops and bottoms constructed with its new Core-Spun Technology, Merino Wool spun around a nylon core.
For Fall 2016, ARC'TERYX has developed a new fabric technology called Nucliex™STR 180, a revolutionary Merino Wool core-spun textile that utilizes a high strength nylon core filament with super-fine micron Merino Wool fibers spun around the core. All surfaces of the Nucliex fabric feature compact finished, soft natural Merino Wool fibers for next-to-skin for comfort and odor control while the nylon core provides a durable substrate that enables the fabric to be 20% stronger in burst strength and 50% more abrasion resistant. Elastane is added to the knit to maintain shape and for a better next to skin fit to aid thermal efficiency and promote rapid moisture transfer.
Featured in the new Satoro AR Zip Neck, Satoro AR Crew, Satoro AR Bottom, and Satoro AR Boxer, these garments provide exceptional comfort, improved technical performance and durability making them the ideal first layer.
The ideal weight for a multitude of activities and high output pursuits, the new Satoro collection delivers the perfect long lasting baselayer for single and multi day use.
– Satoro AR Zip: SRP 150 Euro
– Satoro AR Crew: SRP 130 Euro
– Satoro AR Bottom: SRP 110 Euro
– Satoro AR Boxer: SRP 60 Euro.
INFO: ARC'TERYX