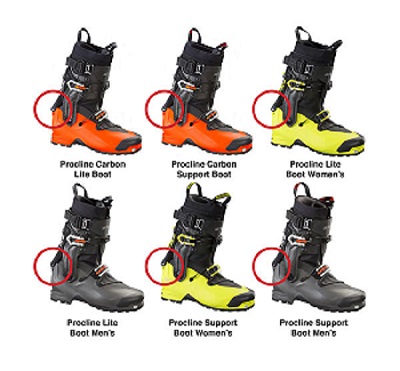 Arc'teryx Equipment, in cooperation with Health Canada and the US Consumer Product Safety Commission is issuing a voluntary recall of all 2016 Procline boots, both men's and women's, because of a possible safety issue with the axis pin (circled below), which keeps the spoiler and 360 rotating cuff in place.
This recall concerns all six models of the 2016 Procline boots manufactured between Nov 1, 2015 – March 31, 2017.
In a very small number of the boots, the axis pin has dislodged during use, leading us to issue a voluntary recall to repair the pin and allow the boot to function as designed.
No injuries have been reported; however, in the interest of customer safety, Arc'teryx is requesting that customers STOP USE IMMEDIATELY, and send the boots in question back to be repaired via the following procedure at recall.arcteryx.com
Innovation and quality are foundational building blocks of our brand design culture. Arc'teryx sincerely apologizes for the inconvenience this issue has caused and wish you to know that over our 25 year history of making climbing equipment we have been and remain committed to creating products that enable consumers to move safely in the mountains.
RECALL RETURN PROCEDURE: In order to make this process as easy as possible, follow the instructions below and we will repair and return your boots. The shipping is free of charge.
TO INITIATE A RETURN WITH ARC'TERYX
Click here recall.arcteryx.com
Follow the instroctions online to submit a repair form
A customer service representative will contact you regarding next steps and provide a pre-paid shipping label
We will repair your boot, keep you informed of the status and ship the boot back to you at no cost.

If your boot does not have a coloured dot on the inside of the spoiler then it is part of the recall.
For the official company statement click HERE.
INFO: Arc'teryx