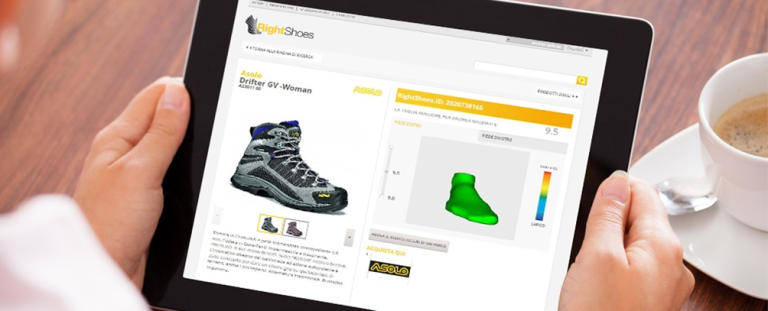 Asolo, leader brand in the world of outdoor shoes, has signed a new agreement with the Right Shoes start up to improve the purchasing experience in the authorized dealers and on its e-shop, (www.asolo.com) and to identify solutions able to satisfy consumers' needs, through the data collection.
Starting today, the firm can use the advanced Right Shoes technology to allow its users to purchase the perfect shoe, as if it was custom-made, both online and in the shop. The uniqueness of each foot, and, at the same time, the absence of a universal method to classify the sizes which vary depending on the producers, complicate the purchase of a shoe if you don't have the possibility to try it on. The revolutionary Right Shoes system offers a valid solution to this problem as it charts with care the anatomy of each foot and it supplies in a few seconds the most suitable shoe measure.
Thanks to an attentive scan, Right Shoes offers a virtual 3D reproduction of the foot that, through a complex calculation algorithm, is compared with the real inner volume of the selected shoe model, to thoroughly identify the right size. The scan of the foot is worked out through an innovative app for smartphones, the first one in the world that allows you to measure, comfortably at home, the 3D of the foot.
By downloading from the App Store the Right Shoes application (available on iPhone, iPad and iPad mini) and enrolling for free on the website www.rightshoes.ch, it is possible to obtain in a few steps the personal RightShoes.ID, the identikit of your feet to use through a private access for the purchases of shoes both online and in store.
 RIGHT SHOES ON ASOLO.COM WEBSITE
Asolo e-shop enriches with the new Right Shoes functionality for the purchase of new products from the 2015 collection. Once you have created your own personal RightShoes.ID, by accessing to the section www.asolo.com/products, you just have to select the Asolo shoe model that best fits your needs and click on the corresponding Right Shoes widget to obtain the right size to order together, with a useful focus on how a bigger or a smaller size would fit you compared to the recommended one.
Each user finally has the possibility to choose the right shoe, avoiding the loss of time and money caused by a possible return.
ASOLO FOR THE DEVELOPMENT OF NEW MODELS
Thanks to the collection of consumers' anatomical data, Asolo will have at its disposal an extended range of statistical meters about the feet morphology, useful information to refine the comfort lines and the suitable sizes of the shoe models depending on the referential geographical area.
For information: www.asolo.com, www.rightshoes.ch.
Right Shoes Application for Apple devices, available on the App Store.