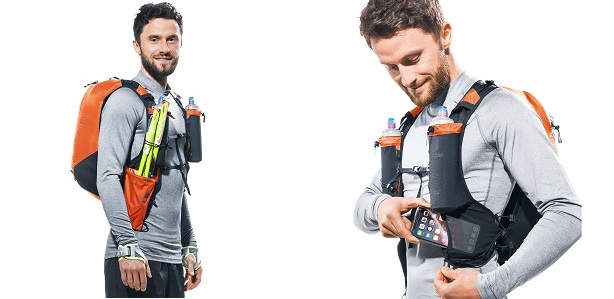 Trail running is booming. More and more runners are opting for natural tracks  and trails instead of pounding concrete. Wilderness and mountains are where it's at.There are a multitude of reasons for the shift. And summer 2022, sees  another reason to add to the list: Backpack pioneer deuter has expanded its  collection to include the Ascender trail running pack, which sets new standards  in comfort and lightness. The Ascender bridges the gap between backpacks for  speed hiking and trail running and is perfect for people who like to move fast  over alpine terrain.  
The new Ascender trail running pack is specially designed for high-octane outdoor  enthusiasts who want to push hard over longer distances and up and down steep  terrain. It carefully balances light weight with their requirements for seamless comfort and easy handling. It's a balancing act  that to date has never been  achieved.

But now, deuter has come up with the solution: the new Ascender pack.  It's time to say goodbye to sacrificing comfort in order to minimize weight. Here, we have wide,  ergonomic, vest-style shoulder straps with elasticated compression straps,  adjustable sternum straps and soft fabric against the back to create a garment like fit that stays put no matter how challenging the terrain. Condensation  protection on the back prevents moisture from penetrating and affecting items inside the pack. There is a stretch mesh pouch inside the main compartment to  anchor the main contents in place, and adjustable compression straps at the sides  ensure the whole pack remains compact against the back. This minimizes load  wobble and provides unrestricted movement during the up-and-down motion of  running. An innovative holster on the front of one shoulder strap makes it quick and  easy to access a collapsible pole without having to take the pack off and break  stride. There is space for soft flasks and a cell phone or GPS inside the shoulder  strap pockets too. And even though the deuter Lite back system is ultra lightweight,  for times when every gram counts, the back padding can be removed, shaving an  extra 15 grams off the overall weight. *
The Ascender is in a unisex fit and comes in two sizes: The 7-liter version, which  weighs just 315 grams, is suited to fast days out with minimal gear and has a  shorter back length. The 13-liter version, which weighs 340 grams, has more space  and a slightly longer back.
In addition to benefitting from all the best features for mountain running, the  Ascender is also highly sustainable and durable. The body fabric is made from  100% recycled materials and is bluesign® certified. And like all of deuter's new products since 2020, the Ascender is also PFC free.
INFO: deuter