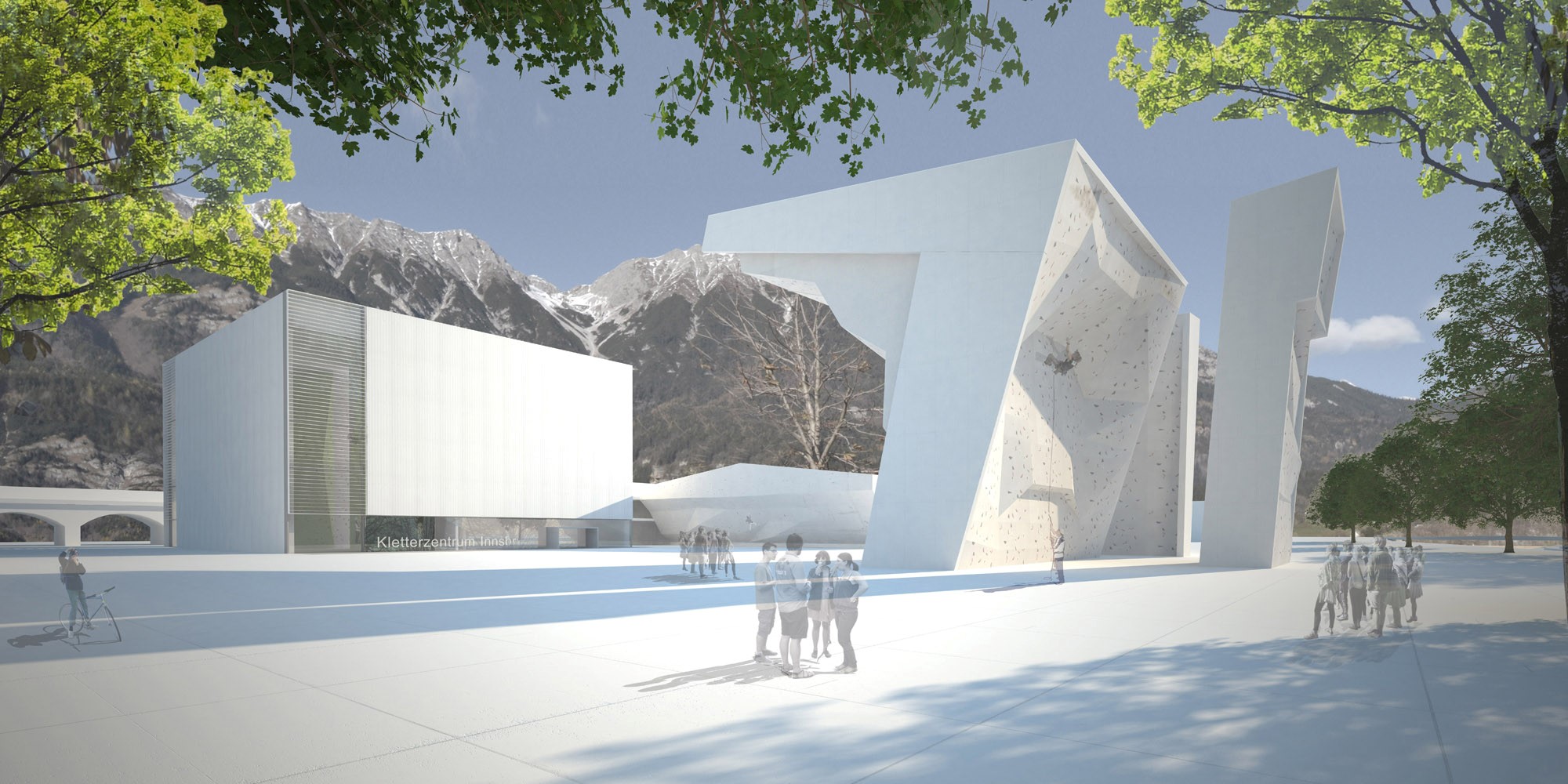 Black Diamond is joining forces with the Kletterverband Österreich (KVÖ) [the Austrian Climbers' Association] and will be the main sponsor of the 2018 Climbing World Championships, the 2017 Youth and Junior World Championships in Innsbruck and World Cup events in Austria. From spring 2017, backed by their main sponsor, Black Diamond, the newly established Innsbruck Climbing Centre will be upping the ante worldwide with regards to size, quality and architecture.
Climbing is booming! The Innsbruck Climbing Centre with approx. 5,700m2 of climbing space will be opening in June 2017. The complex will be one of the largest in the world. Currently the climbing scene meets in the Tivoli, the legendary climbing hall in Innsbruck. It is going to have to make way for the new centre of the universe. The Innsbruck Climbing Centre, which is operated by the Innsbruck Alpine Club, boasts approx. 1,200 m2 of bouldering space, around 1,500 m2 of outdoor rope climbing from three towers and about 3,000 m2 of indoor rope climbing space. Black Diamond – with their European headquarters in Innsbruck – is the main sponsor. The KVÖ-federal training centre is incorporated within the Innsbruck Climbing Centre. The state of the art Innsbruck Climbing Centre will showcase not only how popular, competitive and top-flight sports complement each other but how they cooperate positively with one another.
Sport climbing will feature in the 2020 Tokyo Olympics. The IFSC (International Federation of Sport Climbing) states that there are 35 million climbers worldwide. The Austrian Climbers' Association is one of the leading global climbing associations. Public and media interest in climbing competitions is enormous and is constantly growing. Black Diamond is the sponsoring partner of the Austrian Climbers' Association and its events until 2022.
The up and coming major climbing events in Innsbruck are the 2017 Youth & Junior Championships in September and the 2018 World Championships, to which around 40,000 spectators are expected along with live streams and television broadcasts. Black Diamond will act as the exclusive sponsor from the outdoor industry. There will be additional sponsors from other industries.
"Internally we speak of climbing and skiing epicentres when we consider marketing measures – Innsbruck is definitely amongst these epicentres. We, alongside the Austrian Climbing Association, are delighted to be able to showcase Black Diamond's climbing expertise at the Innsbruck Climbing Centre. We at Black Diamond have been in Innsbruck since 2016", explained Stephan Hagenbusch, Director of Sales & Marketing.
INFO: Black Diamond