JULBO FW 17.18 Woorkbook:
ALL THE PRODUCTS
Limitless vision Its oversize panoramic lens offers maximum angle of vision. Frameless construction eliminates obstacles in the line of sight. Skydome expands vision for the ultimate in backcountry freeride! With its flexible construction and featherweight spec (135 g), it fits the face perfectly for superb comfort. Its REACTIV photochromic lens...

More chic, more geek The incredible lightness of its in-mold construction and anti-fog Zebra photochromic REACTIV visor surprised everyone and made it a must-have. Sphere returns in connected mode with a new Bluetooth system fully integrated in the ear pad and a hidden, fingertip-adjustable microphone. Attention...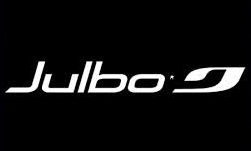 Founded in 1888 and based in the Jura (France), Julbo is a benchmark sports eyewear brand. Famous for its technical expertise, Julbo is following its own values and creative drive to become a global sunglasses and eyewear player. Julbo's mission: finding the best solutions to protect our eyes and allowing all of us to see the world better.
www.julbo.com
INFO
JULBO headquarters Rue Lacuzon 39 400 Longchaumois FRANCE www.julbo.com
INFO REQUEST