Via ferratas are stepping stones in the vertical world for thousands of enthusiasts, who must tackle them only if thoroughly prepared, sporting a harness, an energy-absorption system and a helmet. C.A.M.P. has always paid boundless attention to the development of via ferrata gear, such as the new Kinetic Gyro Rewind Pro, complying with new European standards relating to this category of personal protective equipment. Together with the Flint harness and the Titan helmet, greatly appreciated for its sturdiness, the Kinetic Gyro Rewind Pro is our high-end proposal to safely live all the emotions of the most famous via ferrata routes.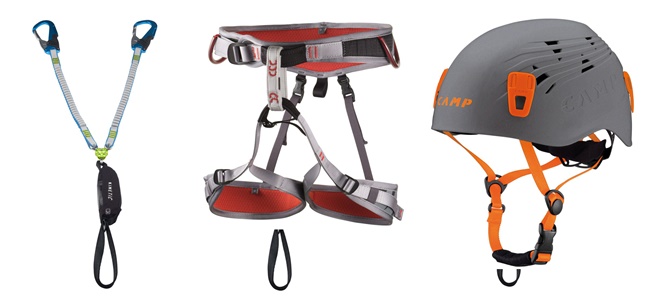 CAMP Kinetic Gyro Rewind Pro
The Kinetic Gyro Rewind Pro via ferrata lanyard is a prime combination of our top-of-the-line via ferrata components. It features our light and compact stitched shock absorber that is compliant with the newly updated EN 958 standard, super-safe Horai carabiners and the patented Gyro system designed to eliminate twisting and tangling. The lanyards use special elasticized 22 mm Rewind webbing that contracts to a shortened length to stay out of the way while climbing, but extends effortlessly to full length for passing anchors or straying from fixed lines. Connects to any harness with a webbing twist ring that positions the unit in its upright position even when passed through vertical tie-in points. Weight: 670 g
CAMP Flint
The Flint has been a popular and welcome addition to price-point harnesses where it blows the competition away with a patented belay loop, robust materials and construction, and technical features that make it ready for any adventure. Use it for top roping in the gym one day and gunning trad routes in the mountains the next. With four webbing reinforced gear loops, adjustable leg loops, drop seat buckles, patented No-Twist belay loop and a haul loop, the Flint is ready for anything you plan to throw its way. Weight: 460 g (M size).
CAMP Titan
The Titan blends strength, durability, comfort, and a striking aesthetic unlike any other helmet. It is an authentic workhorse with an ABS injection molded shell that is specially shaped to optimize strength and durability. Assembly is done without the use of fixed components which means it can be disassembled for easy cleaning and maintenance. This is particularly useful for adventure parks and guiding outfits who can replace the liners as they get contaminated over time. The spider suspension framework delivers a precise fit and excellent ventilation. Comfort is enhanced even further with soft, breathable, absorbent padding that keeps everything feeling dry and light during use. An updated dial adjustment system is beefed up to handle heavy use and four strong clips hold a head lamp securely in place. 4 colors and 2 sizes. Weight: 385 g (size 1) and 435 g (size 2)
INFO: C.A.M.P.