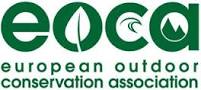 This is an important year for the EOCA (European Outdoor Conservation Association). During 2016, the Association is celebrating its 10 year anniversary and having raised and spent an incredible €2 million on conservation in that time! To mark these milestones, an ambitious plan to plant or regenerate 2 million trees around the world is being launched at OutDoor.
Starting with a founding meeting organised by the European Outdoor Group (EOG) in the summer of 2006, a handful of companies offered their support to an organisation that would raise money from the industry to put back into protecting and restoring the wild places they loved to explore. Ten years on and EOCA boasts nearly 130 members and the funding of around 10 new projects each year. With an annual reach during its public vote of up to 36 million consumers, and project achievements including trees planting, wilderness protection, mountain trail restoration, rubbish clear-ups and species conservation, there are many exciting stories to tell.
In order to celebrate, EOCA is launching its most ambitious project yet. Having raised €2 million, it is laying down ambitious plans to plant 2 million trees. By replanting, re-wilding, restoring and regenerating. Trees, shrubs, bushes, mangroves. There will be the opportunity for everyone to get involved – whether as a member company of EOCA, part of the outdoor industry community or as an individual, helping the Association to achieve its goal. An enormous celebration – and what a legacy!
Trees provide so many benefits: conserving species, supporting local communities, reducing the risk of landslides, mitigating climate change and producing oxygen to name but a few. They also benefit outdoor enthusiasts, who can enjoy a good day out hiking, biking, kayaking or exploring forests, woodlands or mangroves. We can all play our part – and for the sake of the wild landscapes where we thrive – we MUST all play our part.
Catherine Savidge, Joint General Manager of EOCA said 'We are very excited to see this project taking shape. To date, the Association has funded the planting of 640,000 trees. This summer, we have committed funding to support 5 projects all focusing on tree planting and regeneration. We also have mechanisms to enable members of the Association, members of the public and other members of the outdoor industry to help us reach this ambitious target."
The 2 Million Tree Project will be launched immediately after the International Press Conference at OutDoor on Wednesday morning (13th July) at 11.30 hrs. There will be a brief ceremony and a photo opportunity at this time just outside the East Entrance in the grounds of the Messe. Please do come along for further details about the project and the Association.
INFO:  EOCA