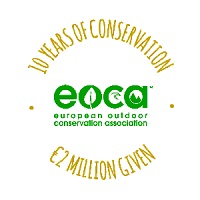 2016 is a year of celebration for EOCA (European Outdoor Conservation Association). Two important milestones have been reached, new members have joined and there is a large number of events planned at the OutDoor Show next month in Friedrichshafen to mark the successes and continuation of the Association's good work.
Not only is EOCA 10 years old, this summer the organisation, with the support of Europe's Outdoor Industry, will have raised and given over €2 million to conservation projects around the world in that time. With an ever-increasing membership, the money available to protect and restore the precious landscapes the sector relies on for its livelihood grows each year. New to the Association are members Ortovox Sportartikel GmbH, high alpine, climbing equipment and clothing brand; Portuguese urban outdoor clothing, footwear and equipment brand Berg Outdoor and HDWool, sustainable internal insulation producers for the outdoor clothing industry. Kristin Pache, Product Director of Berg Outdoor said, "Although we are a relatively new company, we are very clear that we want to play our part for the environment and support EOCA. There are always ways to improve what you are doing and we are constantly striving to be better."
Members of EOCA will be helping to celebrate the milestones though the immensely popular annual fundraiser. Held on EOCA's stand in the East Entrance, members generously donate items to raise money for more conservation projects. This event last year raised a staggering €30,000 – enough to fund an entire extra project! In addition to the fundraiser, there will be specific products for sale on members stands as well as the EOCA stand: Klean Kanteen has produced a special edition stainless steel pint (also the official mug for the Friday night party); Stanley – a PMI brand will be selling its 12oz Mountain Switchback Mug and the ever popular KEEN Hybrid.Care footwear sale will take place on its stand in A1 from 17.00 – be there early to avoid disappointment! The Scandinavian Outdoor Group will again be raising money for EOCA by asking for donations for its food and drink at the Scandinavian Village bar throughout the show. And Camelbak has just announced it will be selling custom engraved 2017 thermal Kickbak mugs on their stand, at the incredibly reduced price of €15! Limited quantities will be available each day, so don't miss out!
The highly popular comedian, rock climber and Patagonia Ambassador Timmy O'Neill will be giving his inspirational talk 'Yesiprocity' on behalf of EOCA as well as helping launch their new conservation projects just before the OutDoor Awards ceremony in the East Entrance on Wednesday 13th July at 17.00
Finally – there will be the launch of one much bigger celebration for EOCA on Wednesday morning from 11.30am just outside the East Entrance. The launch will signal the first part of an on-going legacy that EOCA and its members are ambitiously going to be working on over the coming months and years. Come along to find out more – and how you can be involved!
INFO: EOCA