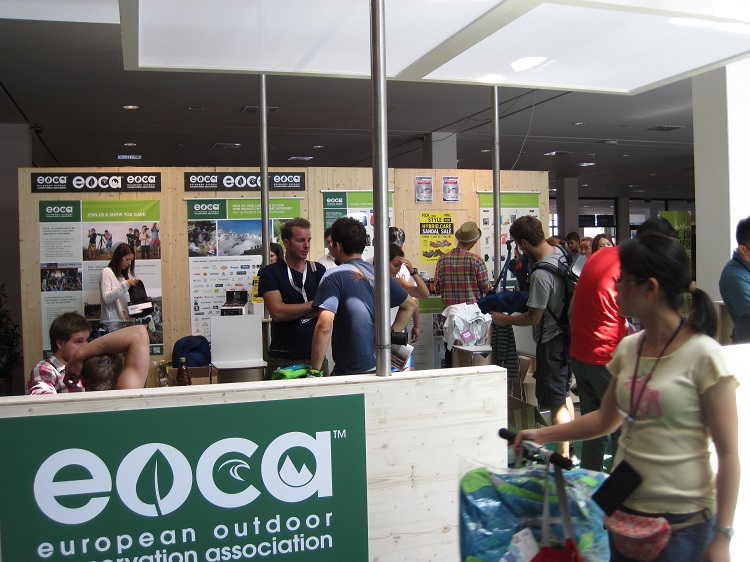 The OutDoor Show in Friedrichshafen this month will be a busy mix of fundraising, celebrating and business for the European Outdoor Conservation Association (EOCA) and its members. Raising funds to conserve the great outdoors, celebrating projects being supported by the Association, supporting initiatives of existing members and engaging new companies, will all be priorities during the show.
Members of EOCA have been hugely generous with their donations to the ever-popular Conservation Fundraiser, including one of the newest members to the Association, Bestway. Held on EOCA's stand in the East Entrance, members generously donate items which are then sold to visitors to the show with 100% of the money raised being used to fund conservation projects around the world. In the past few years, enough has been raised at each show to fund an entire extra project. This year is expected to be no different, with exciting items including sleeping bags, jackets, T-shirts, climbing helmets and packs all on offer.
In addition, other member companies are selling items and holding events on their own booths to raise further funds and awareness for the Association. KEEN Footwear (A1-215, Monday 17.00hrs) will be hosting their annual KEEN Care footwear sale, which sees people queuing around the booth before the event, eager to snap up some high quality and good value sandals and boots. The money raised at this sale will go towards a Mangrove Restoration project in Indonesia. Eagles Nest Outfitters will be selling a custom made EOCA Hammock from their booth (A6-200), which will later be sold through their retail outlets with a percentage of proceeds going to EOCA – a first for the Association. This initiative will be celebrated on their booth at an event on Monday 19th June, 15.00-17.00 hrs. Klean Kanteen are selling special edition insulated 8oz tumblers (A5-207) from their booth, including a free ice-cream to celebrate their 5th year at the show. The money raised will plant trees in Nepal, via the EOCA tree planting public fundraiser. The Scandinavian Outdoor Group will once again collect donations on their bar for all food and drink, with that money also coming to EOCA. Ternua (A5-101) will be sending out puzzle pieces to various clients and for every piece returned to their stand, €10 will be donated to EOCA.  The owner of the winning piece will win a weekend for two to the Basque Coast. And finally, Marmot Europe (B4/100) will be selling T-shirts made from plastic bottles collected by locals in Haiti, with all €5 donations coming to EOCA.
Other events during the show include the announcement of the conservation projects chosen this spring by the Association for funding. This will take place at 17.20hrs at the OutDoor Stage in Foyer East on Monday 19th, immediately before the OutDoor Awards. EOCA is delighted to be joined during the show by the CEO of one of the projects funded last year by the Association – Marie-Noelle Keijzer from WeForest. She will talk to EOCA members at their Annual Meeting and also attendees of the EOG Industry Breakfast about the importance of trees for the outdoor industry – 'Giving Outdoor Enthusiasts Space to Breathe Through Conservation'.
Finally, EOCA will have its slot on the main stage at the OutDoor Party, this year being sponsored by Gore. At 20.00hrs, directors of the Association will take to the stage to celebrate some key members – please give them a big cheer!
Look out for the EOCA General Managers Catherine Savidge and Tanya Bascombe in their new, eco friendly, EOCA-branded shirts, kindly donated by Pyua and Vaude. Catherine said 'We are very grateful to Pyua and Vaude for donating our new look outfits to us. We hope that visitors to the show will feel able to stop us to ask us about EOCA and how they can get involved."
INFO: EOCA