Mountain sports textile technology has evolved radically over the last century. Its history dates back to around 1900, when sportspeople donned warm, heavy clothes to protect themselves from the cold at high altitude. Unfortunately, this also compromised comfort and freedom of movement. There have been three eras in the progress of textile technology, each characterized by specific fabrics, styles and technologies. There was a distinct lack of specificity in sportswear in the first era. In fact, it was only from the 1950s onwards that specially designed mountain clothing took off, marking the start of the second era.  The resulting garments still failed to deliver on performance and stretch, and so were not exactly suited to performance-focused climbers tackling high altitude challenges.
Then, in the 1980s, a promising young cross-country skier called Valeria Colturi realised to her dismay that the clothes available were so heavy they hindered performance and began imagining a more innovative and effective solution. She quickly identified lightness as a pivotal factor for any successful mountain endurance sportswear. This continued to be the key requisite of all the garments she was soon designing for herself and then the first customers of her small store in the heart of the town of Bormio, in Valtellina, Italy.
The first people to identify a need to evolve traditional mountain clothing were the athletes themselves, particularly ski mountaineers, who knew they needed to be lighter, more innovative and high performance.
Valeria's collections were an instant success, thanks in part to the boom in competitive ski mountaineering which was gaining growing international traction around that time. From the outset, Crazy has been a go-to brand for the top ski mountaineers and skyrunners who were the first to grasp the fact that only lighter clothing would allow them to perform at their very best even at altitudes of over 4,000 metres. The result was the Fast & Light principle that continues to underpin all of Crazy's output:
«From the very beginning, lightness was one of my primary goals. As a former athlete, I know the world of winter sports well and I understand how essential high performance, light, stretchy but still very technical clothing is. So the Crazy collections are based on methodical research into the best materials and the development of designs best suited to people striving for performance at altitude.  – says Valeria – It revolutionised the entire sector because we were the first to introduce a principle that other brands then adopted: clothes had to be light!».
The insights Colturi gained from taking the needs of a narrow circle of athletes as her driving force, saw her evolve and improve the entire traditional sportswear scene, paving the way for what we now recognize as sportswear's third era.  Stretch and comfort became a priority as did the use of soft, comfortable fabrics to guarantee a light, streamlined end garment. Valeria used legendary German architect and designer Ludwig Mies van der Rohe's "Less is more" motto as her guiding principle to produce light, sleek, unfussy sportswear.
That said, Crazy's other signature is its vibrantly colourful, original designs. Over the years, Valeria has channelled her creative talents into producing collections that eschew classic greys and blacks for vibrant colours and sophisticated patterns. This sparked a genuine revolution that was a complete breath of fresh air to the mountain clothing world.  But no matter where you may find yourself, be it at the summit of a 4000m mountain or running a high-altitude mountain trail, Crazy's signature style will always be instantly recognisable.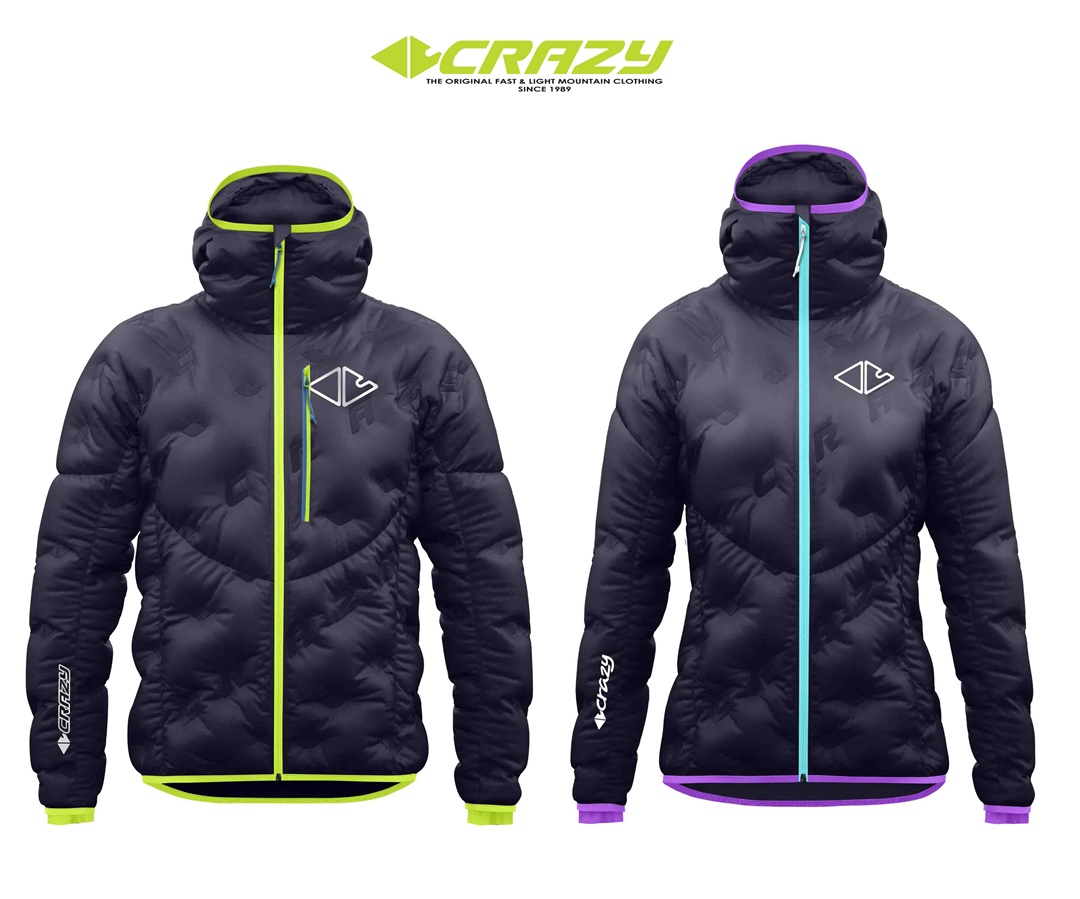 LEVITY, THE WORLD'S LIGHTEST JACKET
The Fast & Light principle has been the brand's guiding light since its earliest days. Now it has culminated in the absolutely revolutionary Levity, the world's lightest down jacket and the flagship product from the Italian company's R&D department.
The Levity's weight was kept to an absolute minimum by meticulously designing every single detail, resulting not just in cosiness but superb comfort and freedom of movement. It is padded with premium quality Diamond Down, for which the feathers are individually hand-selected to guarantee that only the fluffiest filaments are used, with no-stitch heat-sealed baffles also minimising feather leakage. The outer is the 7 denier 18 g/m2 rip-stop Toray Airtastic stretch fabric which also has a very light but efficient DWR coating. The Levity's astonishing lightness (the men's size M is just 208 grams) is matched only by its extraordinary thermal properties, making it the perfect choice for athletes that need cold protection during descents on fresh snow or from a sudden unforeseen change in the weather.
«The Levity is an incredible milestone because it is a genuine powerhouse of textile technology – Colturi declared proudly – and we couldn't have achieved that goal without the teamwork between the suppliers, testers and our production department». Just like a rope team at high altitude in the mountains!
Recommended retail price: 480 euro.
INFO: Crazy