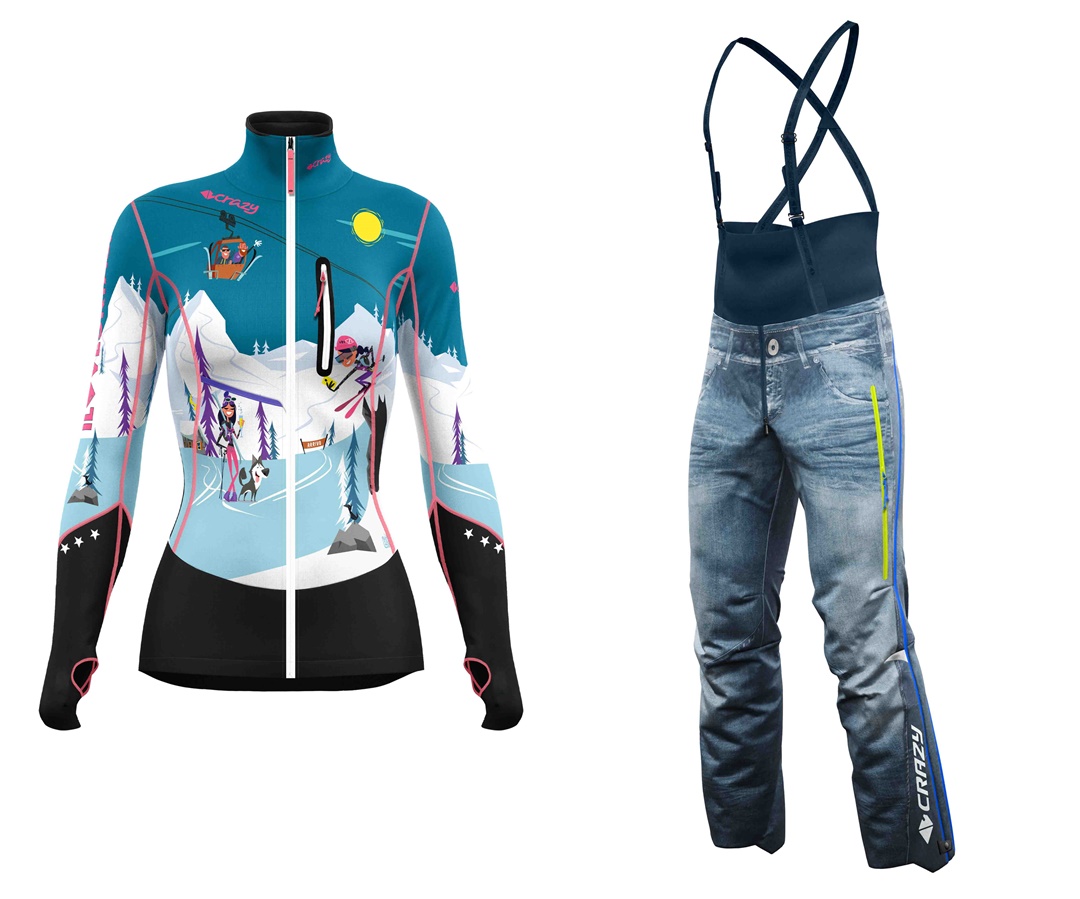 Crazy, supplier of Original Mountain Wear since 1989, is delighted to present its Fast & Light-inspired Fall Winter 2023/2024 collection at IPSO (showcasing at booth A3.222)
The Crazy story began in 1989 and is inextricably linked with that of founder and designer Valeria Colturi. As she was building a very successful national-level career in cross-country skiing, Valeria realised just how unsuited high-altitude sportswear was to the job. Soon she was designing what eventually developed into the core must-haves of Crazy's collections, and researching fabrics and materials for both training and competition wear for people who love doing both in the mountains.
The result was the Fast & Light concept that continues to drive the brand's philosophy to this day. Speed and lightness became the cornerstones of the Crazy success story as the Italian brand unleashed a radically innovative mountain and sports experience at the turn of the millennium.
«We know we are a lone voice in the wilderness and we are proud of it. Crazy's collections were designed and developed to fill a gap in the mountain wear market – declared Colturi – In that sense, we were pioneers, using body mapping and innovative materials to make our clothes genuinely Fast & Light».
Crazy's Fall Winter 23/24 collection, being showcased at ISPO Munich 2022, was inspired by that enduring core philosophy of lightness, compactness and technicality.
Crazy's big news models for next winter include the Boosted pants, an innovative waterproof member of the High Mountain collection created for challenging mountaineering and ice climbing. The braces on these light minimalist trousers make them quick and easy to get on, while a special release system means you can take the pants off using the full-length side zips without having to remove the braces. Made of hard-wearing Dermizav Ev in an iconic denim print, Crazy's Boosted Pants are one of the lightest, stretchiest and most packable models in their category. Lastly, the integrated gaiters can be used with most boots on the market while an innovative zip system means the trousers will effortlessly hug the boots. Both men's and women's version will be available from leading Crazy retailers from next season.
This absolutely new model aside, we also have new additions to the colour stories that have made Crazy famous all over Europe as well as  one of the most instantly recognizable and divisive brands on the market. Six new total colours – three each for the men's and women's collections – will be on show at stand A3.222 at ISPO.
The event will bring the Italian brand's most iconic models to life in a veritable explosion of vibrant new colour and performance-boosting technical upgrades.
INFO: Crazy