DETER NEW LOGO, SAME VALUES
This season, backpack pioneer and sleeping bag expert deuter has a surprise in store for its customers, fans and outdoor enthusiasts the world over. The Gersthofen firm's image has had a freshen-up in the form of a new logo and brand image that represents the company's values even more clearly for the future.
Dynamic, fresh and more mountain focused the new logo captures the sentiment perfectly. It is obvious at first glance, that this is a mountain sports brand logo. Together with textile experts and mountain sports athletes, deuter produces sustainable products, that are specifically tailored to the activity they are designed for no matter how long it takes, no matter how hard it is. They are relentlessly innovative, adding clever new functions, making products lighter and using evermore sustainable materials – always with a keen eye for detail. And that's exactly what the new logo represents.
But the change in logo does not represent a shift in core value for Deuter. deuter is a mountain sports brand, through and through. Managing Director Robert, Shieferle: "over the last 120+ years, Deuter has gone through many changes. From the beginning, we adopted a bold and innovative approach. Now, we are reshaping for the future with a new logo and brand design that speaks to trailblazers and mountain enthusiasts the world over the mountaineers, the climbers, the skiers and boarders and all lovers of outdoor adventures". And as always, deuter will continue to offer its customers a lifelong repair service, and in doing so helps contribute to sustainability and waste reduction.
Speaking of environmental issues, responsible business practices have been at the core of deuter for more than 120 years. This approach, where the health of people and planet play a pivotal role, is set to endure. deuter has worked hard to ensure its manufacturing processes are as sustainable as possible and that its workers enjoy fair working conditions. To this end, deuter has teamed up with various initiatives such as the Fair Wear Foundation and bluesign® to make sure that the full range of resources it uses throughout the supply chain are managed responsibly.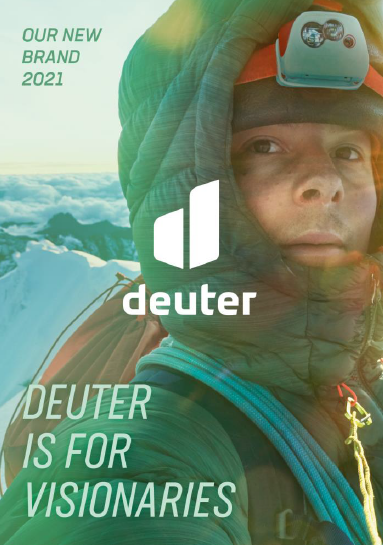 DEUTER IS FOR PERFECTIONISTS. As one of the earliest pioneers in mountaineering and expedition equipment, deuter has a wealth of experience to draw on. Relying heavily on the knowledge and expert opinions of its deuter Family of athletes, deuter is able to perfect its products – products whose reliability, high quality and uncomplicated functionality make them reliable companions for exploring mountains and the natural world.
DEUTER IS FOR FREETHINKERS. A responsible approach has underpinned the deuter ethos for over 120 years, for the protection of people and planet. Sustainable manufacturing practices and fair working conditions within its manufacturing countries is paramount. From 2020, all of its backpacks and sleeping bags have been entirely free from PFCs. By focusing on quality, using durable materials and offering a lifelong repair service, deuter is able to ensure that its products have the longest lifespan possible.
DEUTER IS FOR SUMMITEERS. The new deuter logo demonstrates its deep love of mountain sports. It's a brand made by mountaineers, for mountaineers. For adventurers, summiteers and all those drawn to high places. deuter creates backpacks and sleeping bags that bring these people closer to the mountains – whether it's on their bikes, through mountain sports, through hiking or simply by traveling. deuter supports them with durable, high-quality products, and gives them more freedom to explore their passion for the mountains.

We create exceptional products for people who push themselves, break new ground and explore the unknown. They are visionaries in uncharted territory, beyond their comfort zone. By supporting them, deuter gives these people the freedom to pursue their passion for the mountains.
INFO: Deuter