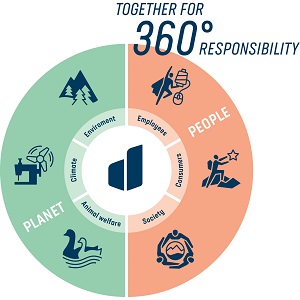 In keeping with the motto "changing for the better means taking responsibility", deuter is launching its new sustainability strategy, which clearly demonstrates its stance. With what they call 'the deuter Promise', the renowned backpack and sleeping bag manufacturer is embracing the responsibility it holds for its actions and the effect these have on people and the environment. But they go even further than that. Under the slogan "Together for 360 Responsability" they've outlined all their current measures and scheduled goals across the areas of animal welfare, climate protection, environmental protection, employees, customers, and society. But actions speak louder than words, and that's where deuter is so effective. 
It might look like deuter is jumping on the green bandwagon that's gaining momentum – not least in the outdoor sector – but the backpack pioneers have a long history in sustainability. It's part of who they are. Europe's biggest backpack manufacturer has shaped mountain sports worldwide for more than 120 years. And for just as many years it has also created innovative, durable, high-quality products with the aim of ensuring they have the longest possible lifespan, and that their impact is subsequently minimized.
"We are utterly tireless in our approach. And we're not about to stop"explains deuter CEO Robert Schieferle. "We're more consistent, more transparent and more committed than ever, because sustainability isn't a goal that can simply be achieved. It's a continuous process, one which requires new measures and new ways of thinking, and which needs the full commitment of each individual and all of society for it to succeed. Business must operate in harmony with people and the natural world," says Schieferle, summarizing the sentiment behind the company's corporate philosophy, and the foundations of the deuter Promise. "We want to protect the places we love, so that future generations can keep exploring our wonderful world. Preserving natural and human resources is at the core of the deuter Promise, as is adopting responsible practices to make sure we tread as lightly as possible."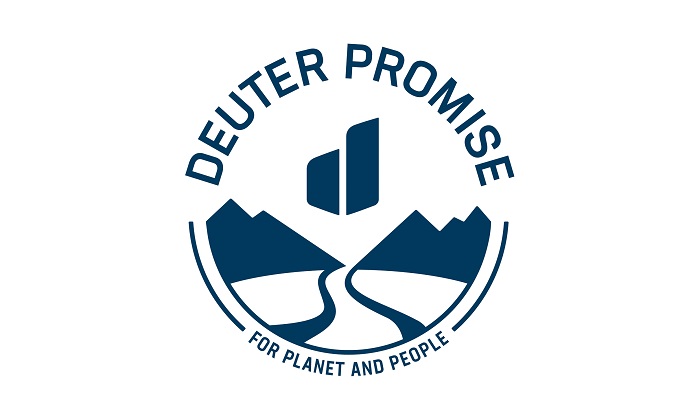 The approach spans environmental, economical and social areas: From product development, design and materials selection that looks to the future, to manufacturing that uses fewer natural resources and transportation that's less harmful to the environment, through to longer-lasting products, fair working conditions, the responsible treatment of employees along the supply chain, and education efforts on sustainability and the conscientious use of products for outdoor activities, to our own personal behavior in our private lives. The German backpack specialist isn't simply implementing a couple of measures to make them feel better about themselves. They want to make a holistic contribution to society and the environment, and adopt an all-encompassing approach to doing business sustainably. Which is why, under the slogan 'Together for 360° Responsibility' deuter has committed to clear, multidisciplinary measures with transparent, quantifiable goals across six actionable areas, that they intend to keep driving forward across all business areas, and achieve by 2025 (2028 for climate goals). Its actionable areas and sustainability goals are based on the UN's 17 Sustainable Development Goals and incorporate all the key aspects like environment and climate protection, animal welfare, social justice and social welfare – and, of course, customers.
"Changing for the better means taking responsibility" – the path that the German backpack maker has taken may not be the easiest one. And it's certainly not the most direct one. But it will lead to greater sustainability. That's for sure. And because together we are stronger, deuter has joined forces with other businesses, organizations, and its long-standing production and design partners to pool strengths and work together to implement social and environmental standards such as those from the Fair Wear Foundation, bluesign® and Green Button in an effective and long-lasting way throughout its value chains.
For more information about the deuter Promise and deuter's sustainability efforts click here.
INFO: deuter