Walking-based outdoor activities are extremely popular. In Germany alone, no less than 38.84 million people let their feet guide them through natural environments during 2020. It comes as no surprise then, that the scope of these activities has also become more diverse. Different types of trekking place different demands on equipment and have different physical and mental requirements. Which is why, for summer 2022, German backpack manufacturer deuter has reworked its popular Aircontact series of trekking backpacks and geared it towards the latest trends and subsequent consumer needs. Made up of the Aircontact Core for world travelers, the Aircontact X for independent adventurers and the Aircontact Ultra for self-supported thru-hikers, the three models span the entire range of today's trekking requirements.

Long-distance hiking, trekking, going hut-to-hut, hiking, thru-hiking, speed hiking, backpacking, fastpacking, pilgrim journeys… The scope of walking possibilities could not be more varied, and they differ widely in terms of duration, geographical location, physical demands, mental strain, stimulus and equipment used. This is why more specific solutions are needed to accommodate the needs of these diverse groups. The newly updated Aircontact series of backpacks covers all manner of travel by foot.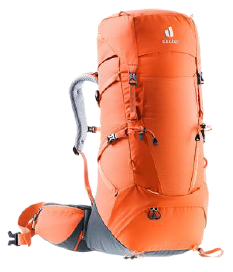 The Aircontact Core is for globetrotters who want a multipurpose, comfortable backpack for extended trekking journeys. Depending on the undertaking, the modular gear straps on this pack can be positioned to attach a range of items. Carry comfort comes courtesy of the deuter Aircontact back system with new Air Spacer mesh and large ventilation channel, the ergonomic ActiveFit shoulder straps and an adjustable sternum strap. The Y-frame, mobile body-hugging hip fins and ergonomic trapezoid-shaped lumbar pad distribute and control the load effectively.
In the sizes 55+ 10 SL to 70+ 10, the Aircontact Core comes with secondary access to the main compartment via a full-length, J-shaped zipper on the front that makes contents easy to locate lower down. Spacious detachable hip fin pockets provide 3 liters extra storage and keep items that need to be accessed frequently within reach. A zip-out 1.5-liter bottle holster built into the right-hand pocket also lets you hydrate on the move. The Aircontact Core is available in Regular fit in 40+ 10, 50+ 10, 60+ 10 and 70+ 10 and 65+ 10 SL.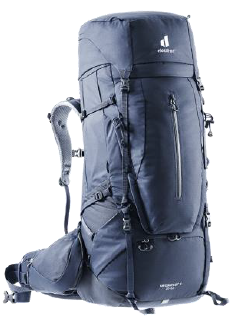 For adventurers who want to explore off the beaten track, fully self-supported, and who need to rely on their gear 100%, there is the Aircontact X. Versatility and dependability are what's required here. And so the Aircontact X features modular gear straps that can be adapted to attach a range of gear to the outside of the pack, such as a sleep mat, tent, sleeping bag or camping crockery. The Aircontact X also has detachable hip fin pockets for an extra 3 liters of space and a zip-out holster for a 1.5 liter water bottle. All Aircontact X models feature deuter's VariSlide Back length adjustment, mobile VariFlex hip fins and supple, pivoting ActiveFit shoulder straps to create a tailored fit no matter what the capacity, with Air Spacer mesh further enhancing the comfort. The hardwearing, spacious Aircontact X pack is available in regular and women's SL versions in sizes 60, 70 and 80 liters, with a possible 15 liters extra volume for each.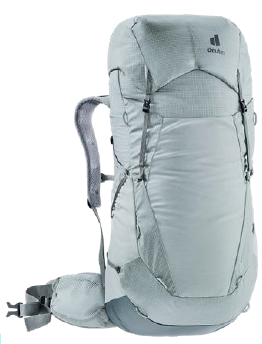 For thru-hikers who want to push their limits and need a lightweight, dependable backpack for the job, summer 2022 sees the arrival of the new Aircontact Ultra in a 45+5 l in a Women's SL version and a 50+5 liters Regular Version. The newly updated Aircontact Ultra is reduced to the essentials and weighs just 1,200 grams for the SL version, and 1,210 for the Regular version, while offering outstanding comfrot for the weight. There is in part, deuter's proven Aircontact Back system covered in new Air Spacer mesh. This new-style mesh performs three functions in one: Comfort, cushioning and ventilation. Keeping materials to a minimum on this pack has saved weight and improved the functionality. The innovative Clip & Loop back length adjustment offers a tailored, comfortable fit, while mobile VariFlex ECL hip fins and an ergonomic, trapezoid-shaped lumbar pad distribute the load effectively and help stabilize it over longer distances. The hardwearing ripstop body farbic made from performance fibers is built to withstand the rigors of thru-hiking. The Aircontact Ultra features various gear loops on the front and modular gear straps that can be positioned to attach a range of items to the pack or used to compress the load. These can also be removed along with the backpack lid when shedding a few extra grams is called for.
All models in the Aircontact series offer targeted solutions for the specific needs of various user groups. And they also meet their requirements for a backpack that is sustainable and highly durable. The body frabric af all deuter's AirContact models is bluesign® certified and made using over 50% recycled fibers.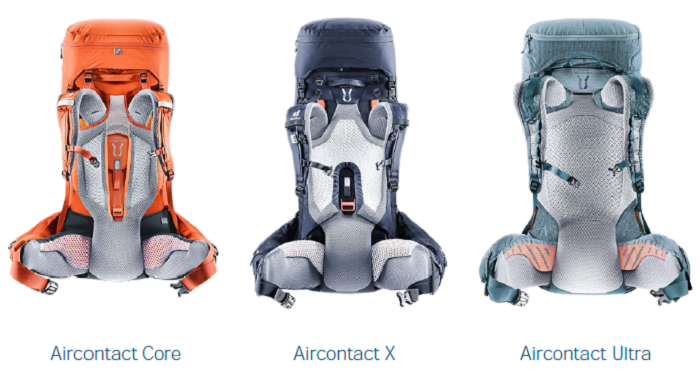 And like all of deuter's new products since 2020, the Aircontact series is PFC free.
INFO: deuter