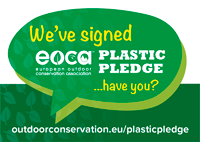 Following the success of the EOCA Plastic Pledge at OutDoor by ISPO 2019, the European Outdoor Conservation Association (EOCA) is setting the challenge to exhibitors at the ISPO 2020 show to run single-use plastic free stands!
EOCA launched its Plastic Pledge earlier in the year, and 44 companies signed up to it before OutDoor by ISPO in Munich. Sixty percent of all EOCA members exhibiting at that show as well as some non-members signed the pledge. The pledge focuses on the vast amounts of single-use plastic used to provide refreshments at tradeshows and commits signees to encourage the use of reusable cups, glasses and bottles, to provide drinking water which visitors can use to top up their reusables, and to not use single use plastic to serve their food and drinks, amongst other things. The Messe supported the initiative and provided drinking water stations in all of the halls. In addition, EOCA produced guidance notes suggesting other ways in which exhibitors could reduce single-use plastic use at tradeshows.
Currently, 51 companies have signed up to the pledge and implement it at tradeshows. The full list can be seen at this link.
Catherine Savidge, Joint General Manager of EOCA said "We were thrilled with the reaction to the EOCA Plastic Pledge during OutDoor by ISPO 2019. We had exhibitors report that this pledge was the nudge they needed to implement these changes, that they reduced waste from their stands by 75%, and that visitors had reacted well to the changes. We now call on more exhibitors to sign and implement the pledge at ISPO 2020. This is open to all exhibitors to the show – EOCA members and non-members. The more companies that sign the pledge, the more of a difference we can make reducing waste, reducing plastic use and therefore reducing our impact on the climate."
Visitors can also show their support to removing single use plastic from tradeshows by travelling to and around the show with their own reusable bottles and other items, and refusing items in single use plastic. Reusable bottles and cups will be available in return for a donation around the show, 100% of which will be spent on conservation by EOCA.
To find out how your company can sign up to the pledge for ISPO 2020 and other tradeshows, please get in touch at catherine@outdoorconservation.eu
INFO: EOCA