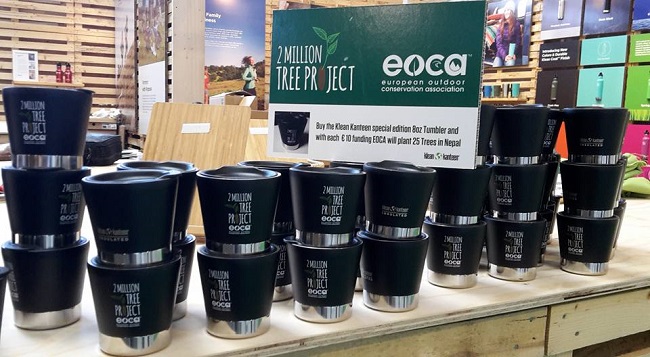 The OutDoor Show at Friedrichshafen proved a successful one for the European Outdoor Conservation Association (EOCA) last month, raising funds of over €35,500 from various events run by members and the popular Conservation Fundraiser. Not only this, but the topic of trees was very much the subject of talks and discussions held by the Association at the show, in particular the benefits they bring to the outdoor industry and enthusiasts, through oxygen production, protection and providing space and room to enjoy outdoor landscapes.
In addition to the donations made by the ever-generous EOCA members for the Conservation Fundraiser on the Association's stand, a number of members and associates got involved in organising their own EOCA fundraisers, some even producing limited edition items to raise money for a specific part of EOCA's work. Klean Kanteen sold special edition 8oz insulated tumblers (complete with ice cream!). With the money raised from the sale of each one raising enough money to plant another 25 trees in EOCA's public fundraiser in Nepal, Klean Kanteen sold enough tumblers to put towards the planting of another 6,375 trees! Stanley – a PMI brand produced a limited edition of its Mountain Vacuum Switchback, which was sold at both ISPO and OutDoor and in total raised enough to plant another 11,250 trees.
As EOCA's newest Summit Member, KEEN chose to use its increasingly popular Sandal sale to raise funds for a mangrove replanting project in Great Aceh, an area still suffering from the effects of the devastating tsunami in 2004, to benefit wildlife and local communities. ENO (Eagle's Nest Outfitters) produced the first ever product to be used to raise funds for EOCA through retail outlets across Europe. The EOCA hammock was also sold at the show and received a great welcome from visitors and exhibitors alike.
Further funds were raised via Camelbak which ran an engraving service on one of its mugs, very quickly running out due to their popularity. Marmot sold t-shirts made from recycled plastic bottles collected in Haiti, Ternua ran a jigsaw competition for its retailers and the Scandinavian Outdoor Group collected donations from its Scandinavian bar which ran the length of the show.
Marie-Noëlle Keijzer, CEO of WeForest which is running a project funded by EOCA this year, talked on behalf of the Association to members gathered for its Annual Assembly and also at the EOG Industry Breakfast the following morning about the vital importance of trees to the industry and the outdoor enthusiast.
Tanya Bascombe, Joint General Manager commented, "There was a real energy at the show this year with so many of our members coming up with exciting and innovative ideas for raising funds for EOCA. The idea of being able to donate €10 and plant 25 trees as a result really caught on, particularly as we could show the industry how trees really do impact in so many positive ways on the outdoor enthusiast, providing us all with the breathing space we need to enjoy our chosen outdoor sports and activities".
Designed to harness the incredible power of the outdoor industry and to raise money to donate to grassroots conservation groups, the European Outdoor Conservation Association is funded by membership and other fundraising activities within the outdoor industry. 100% of membership fees go to the support of projects. Membership is open to anyone that can demonstrate an involvement in the European outdoor industry.
From January 2015, a select group of 'Sustaining Members' have pledged their support to EOCA by committing to fund the sustainable growth of the organisation with an extra €10,000 per year for the next three years, over and above their annual membership fee. This money will be used to finance the running of the Association and support its sustainable growth, also enabling a move to 2 funding rounds per year.
The seven EOCA Sustaining Members are: OutDoor (Messe Friedrichshafen), Pertex, KEEN Footwear, Nikwax, ISPO (Messe München), Patagonia and the European Outdoor Group (EOG), which is also the Founder Member of the Association.
To find out more about the Association please go to: www.outdoorconservation.eu