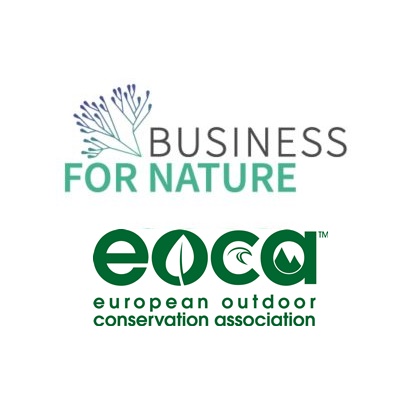 The  European Outdoor Conservation Association (EOCA) is delighted to confirm that it has become a partner of Business for Nature, a global coalition bringing together forward-thinking companies and conservation organisations.  Encouraging businesses to act now to reverse nature loss and advocate for greater policy ambition, the coalition is amplifying business voices calling for governments to adopt policies now to reverse nature loss this decade.
Nature is at a tipping point. More than 1 million species are threatened by extinction, 75% of the world's land and 66% of the marine environment is significantly and potentially irreversibly altered by humans.  Leading companies already recognise this coming emergency, and many are making ambitious commitments and taking decisive action on nature.  But businesses cannot address this global crisis on their own.  To accelerate action, governments must set ambitious nature and climate policies that provide direction and momentum. With the international conferences on nature (COP15) and climate (COP26) coming up this autumn, now is the perfect time to ensure that there is strong and integrated global action to secure an equitable, nature-positive, net-zero future.
Business for Nature has launched a Call for Action, Nature is Everyone's Business, through which already more than 900 companies are urging governments to adopt policies now to reverse nature loss in this decade.
With EOCA's current focus on climate and mitigating the loss of biodiversity, partnering with Business for Nature was a logical step for the association. "Humanity cannot go on as we have been.' explained Tanya Bascombe, EOCA Joint General Manager, "We need to take drastic action for our planet and we need to take it now.  EOCA is in a perfect place to help businesses be proactive in protecting nature, and we can all work together to ensure governments take this crisis seriously too".
"We're delighted EOCA has joined Business for Nature." commented Eva Zabey, Executive Director, Business for Nature. "Working alongside our global network of more than 65 partners, our aim is to unify the voice of business to give policymakers the courage and comfort to make ambitious agreements on nature, while demonstrating that protecting nature is an economic imperative.  We look forward to working with EOCA and its members to grow momentum on the interconnected issues we face in what is set to be a critical few months for nature, people and climate."
Companies wishing to support and sign up to BfN's Nature is Everyone's Business Call to Action, please go to www.businessfornature.org/call-to-action