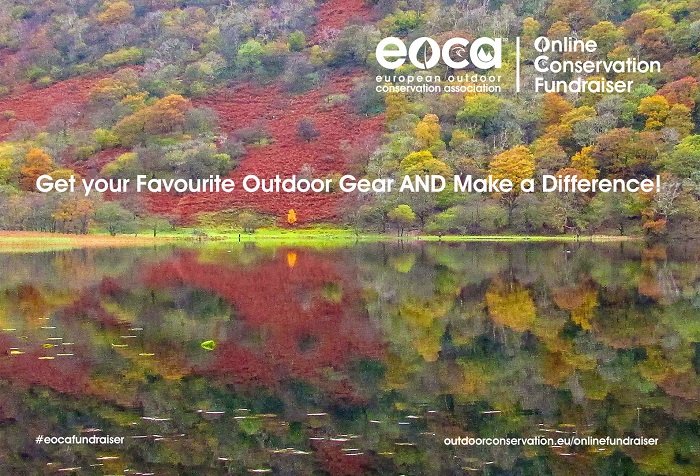 With the unfortunate cancellation of OutDoor by ISPO, Europe's largest outdoor trade fair, at the end of this month, the European Outdoor Conservation Association (EOCA) will, for the first time, run their Conservation Fundraiser online.  An event which would ordinarily be hosted at the show, EOCA have taken the opportunity to launch their first ever online fundraiser on Saturday 27th June. 
The online Conservation Fundraiser will allow people to buy their favourite outdoor gear and make a difference, raising money for three vital conservation projects.  For two days only, Saturday 27th and Sunday 28th June, a number of EOCA member companies will donate a percentage of their online sales to the fundraiser.  Alongside this, running for four weeks from Saturday 27th June, campaign partner and community interest (nonprofit) company, Outdoor Gear for Good, will be contributing 100% of their sales proceeds.  Outdoor products will be sold through their eBay store, all of which have been generously donated by EOCA members involved in the campaign.
The funds raised will support three of EOCA's newest projects: forest restoration in Borneo with the planting of 18,000 seedlings and maintenance of 162 hectares of previously reforested sites; forest regeneration and opening up of grasslands in the Ester de Cardós Valley, Spain; protection of a 50 hectare area of old growth forest in Auvergne, France, to ensure its preservation and survival for future generations.
Joint General Manager Catherine Savidge said, "We are delighted to be launching our first ever online Conservation Fundraiser and are, as always, extremely grateful to our members, who continue to support EOCA and have contributed to the campaign.  In these current, difficult times, it's reassuring to know there continues to be strong support and commitment for the protection of our wildlife and habitats.  It's good to be able to share something positive, and to provide an opportunity for people to get involved and contribute, whilst getting some new gear!"
More details of the EOCA Online Conservation Fundraiser will be announced next week. For all the details, please visit www.outdoorconservation.eu/onlinefundraiser/