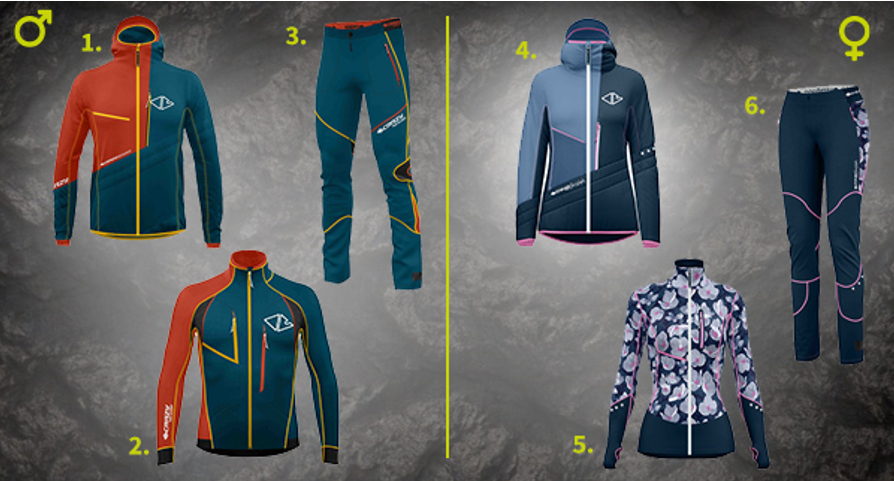 In a world exclusive, Crazy presents its new mountaineering, ski touring and trail running collection to the international outdoor pursuits media. Vibrant colours, comfort and technical fabrics are just some of boxes ticked by the Fall/Winter collection Crazy recently unveiled to its distributors, bringing forward its presentation to meet the latter's needs and market's new timelines. 
JKT ACCELERATION
This model is the evolution of the first padded jacket Crazy ever invented for the big classic ski touring competitions. It is simple, light, and compressible with a fantastic stretch. It has become a genuine ski touring icon since it was presented at the Mezzalama in 2007. The outer is Toray Air-tastic fabric, which is light, water-repellent, windproof and rip-stop.  The Acceleration has new generation fast-drying padding that guarantees exceptional heat retention. The look is topped off by a fast-access pocket on the breast while a second zipped breast pocket comes in handy for stowing climbing skins. There is also an inside pocket ideal for quickly stowing away accessories. 
PULL ACCELERATION
When Crazy decided to update one of its most iconic products, the Cervino top, its mantra was to reinvent this enduring classic without messing with its roots.  Part of the eponymous set which also includes ski touring pants, the resulting Acceleration jacket epitomises Crazy's idea of the best and most effective approach to ski touring. And all race-derived.  Its Italian-made Vuelta fabric is warm, bi-elastic and breathable with a light water-repellent coating. The rucksack contact area on the back is in naturally produced breathable, stretch Sorona fabric. The top has an athletic fit with two roomy zipped side pockets, an inside climbing skins pocket and an outer one. Finally the ARTVA pocket EASY LOCK pocket underscores the Acceleration top's true vocation.     
PANT ACCELERATION
As part of the Acceleration set which is Crazy's most high performance ski touring wear, these pants are an update of the historic Cervino pants in authentic Fast & Light style. Vuelta fabric, which is made entirely in Italy, guarantees comfort, exceptional breathability and thermo-regulation. The fit is athletic with technical details such as waterproof elastic gaiters that will suit most boots on the market. There is also a fabric area with a light windproof membrane at knee height. Contrasting flat stitching and reflective inserts add dynamic appeal to its functional vibe.
JKT OXYGEN
The Oxygen jacket is the women's version of the Acceleration, the evolution of Crazy's first ski touring jacket presented at the 2007 Trofeo Mezzalama, which went on to become an icon for performance-addicted ski tourers.  Over the years, Crazy has gradually restyled and upgraded the jacket with increasing high performance materials. The Oxygen Jkt has a water-repellent, windproof, rip-stop Toray fabric outer with new generation padding underneath. Brilliantly encapsulating the Fast & Light concept, the Oxygen jacket has both an Easy Lock breast pocket with elastic edging and a zipped breast pocket. The lower hem and wrist cuffs are elastic-edged to keep heat locked in too. Its ergonomic hood is a particular favourite as it has a semi-rigid anti-drip visor.
PULL OXYGEN
The women's version of the Crazy ski touring top is part of the Oxygen family which includes ski touring pants and is the very essence of what Crazy feels is the best and most efficient way of living high altitude mountains in winter. A genuine winner inspired by racing world. Made from soft, breathable and vibrantly colourful Italian Vuelta fleece in an array of different prints, its patterns astonish and seduce fans year after year.
A long front zip, protective high collar, zipped breast pocket, two inside pockets and one outside pockets for stowing climbing skins say all that needs to be said about what it is designed for. The functional look is completed by the inside ARTVA pocket and thumb loops on the sleeves.
PANT OXYGEN
The Oxygen pants are an updated version of Crazy's classic ski touring model: the Fast & Light garment par excellence that unites and makes intuitive a product family designed for people that demand the ultra-high performance kit for uncompromising training. Italian-made Vuelta fabric was selected for its superior comfort, breathability and heat regulation. The knee inserts are in softshell with a windproof membrane with hard-wearing laminated rip-stop fabric at the leg ends. The Oxygen pants have an athletic fit and superb technical details including waterproof gaiters with full-grip elastic that will fit all the best-selling boots.
DISCOVER FW 23.24 CRAZY MOUNTAINEERING COLLECTION AT THIS LINK. 
For further information: Crazy