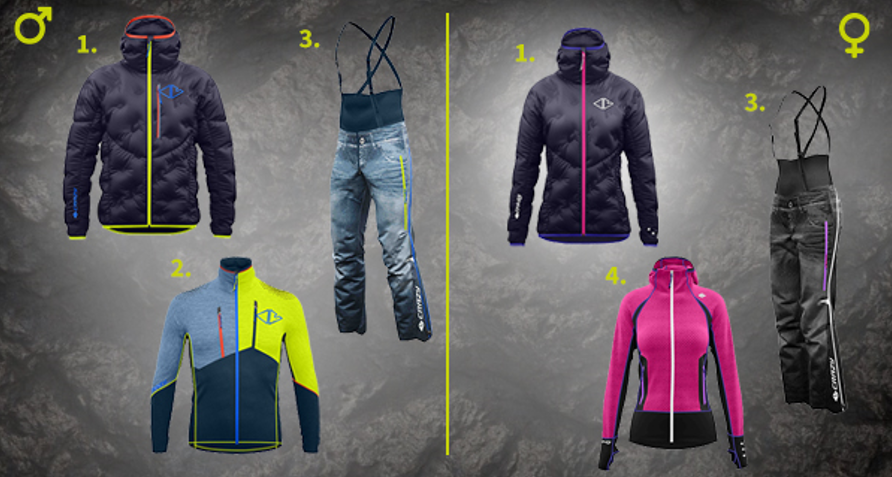 In a world exclusive, Crazy presents its new mountaineering, ski touring and trail running collection to the international outdoor pursuits media. Vibrant colours, comfort and technical fabrics are just some of boxes ticked by the Fall/Winter collection Crazy recently unveiled to its distributors, bringing forward its presentation to meet the latter's needs and market's new timelines. 
JKT LEVITY MEN'S AND WOMEN'S
The jewel in the crown of Crazy's R&D department, the Levity is one of the world's lightest down jackets. Size M weights an astonishing 208 g, in fact! Designed for ski touring, it combines extreme lightness with extraordinary heat insulation. The real secret of its success lies in the meticulous design and crafting of every last detail to guarantee that every single stitch or centimetre of fabric that isn't absolutely necessary has been pared away to make it as feather-light as possible whilst still guaranteeing sublime comfort and freedom of movement. The Levity's outer layer is Toray Airtastic, an ultralight bi-elastic Nylon made especially for Crazy by the American company.  Its DWR also makes the jacket water-repellent while it is padded with the finest quality Diamond Down – the feathers are individually hand-selected to ensure only the fluffiest are used.  The Levity's no-stitch baffles are glued to increase its insulation and reduce down loss. The Levity is available in both men's and women's  versions. 
PULL NEUTRON
A new look for the high-performance, fully-elastic ski touring Neutron hood: high thermal capacity, light and compressible for climbers that demand performance at its most extreme.  Although simple in design, it is exceptionally breathable and comfortable as well as being highly elastic, making it the ideal mid-layer for high altitudes. It is the real must-have from Crazy's climbing collection and has the same minimalist functional styling as the rest of the range. It is  also made from one of Crazy's favourite mid-layer fabrics, HP 3D which, thanks to its honeycomb construction, helps wick moisture to the outside and acts as a thermoregulator as well as being naturally produced and highly breathable.  Laser-cut and glued reinforcements on the shoulders protects the fabric from prolonged and intense rucksack use and also lend it a more technical look further underscored by an ARTVA pocket. 
PANT BOOSTED MEN'S AND WOMEN'S
These waterproof mountaineering, ski touring and ice fall pants are a real Fast & Light revolution in their own right. Crazy's new Boosted pants have an ultralight bib and minimalist braces so that they are quick and easy to get on yet also very stable and comfortable.  An innovative clasp system means the braces stay put even if unhooked from the pants.  Light, elastic and compressible, the Boosteds are fully shaped and preformed for superb freedom of movement. The legs open all the way too, thanks to two-way side zips. They are made from Dermizax Ev, which is even tougher than the fabric used for the Boosted Jkt and features Crazy's now iconic denim print. The side pockets also open for better ventilation. The leg-end gaiters are reinforced and elastic – they have a width-adjustment system designed to ensure they fit even the biggest boots or, if closed, can be used absolutely safely with ice crampons.
PULL INSPIRE
Crazy's Inspire hybrid hooded top in short pile fur fabric and breathable technical fleece is the perfect choice for mountaineering when you need a lot of heat in a very small space. Its hybrid construction makes it super functional at the high mountain altitudes it is designed for. Because it is so breathable, it works beautifully with a windproof shell. The chest and front of the sleeves are made from Fluffy Warm low pile fur fabric, while the bottom, underside of the sleeves and sides are made from light, breathable HP fleece. The hand pockets are zipped and like all Crazy mid-layers, there is also an ARTVA pocket and handy thump loops.
For further information: Crazy