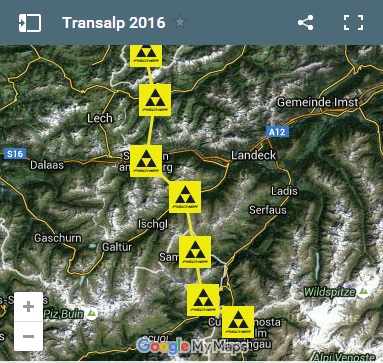 The Fischer Transalp has already reached cult status in the scene. It has been taking Fischer tour pros and participants across the Alps on touring skis since 2012. In several stages. A unique experience which represents a long-standing dream of the adventurers selected in a casting process. A unique experience. Year after year…
This year the route led the participants in six days from Reschen in Vinschgau to Oberstdorf in the Allgäu region. Also on board: Axel Naglich, known for his extreme ski descent on Mount St.
From Italy to Germany in six stages
1st day: arrive at Reschen in Vinschgau (ITA)

2nd day: Reschen (ITA) – Tschlin (CH)

3rd day: Tschlin (CH) – Compatsch (ITA)

4th day: Compatsch (ITA) – Kappl (AUT)

5th day: Kappl (AUT) – St. Anton (AUT)

6th day: St. Anton (AUT) – Steeg (AUT)

7th day: Steeg (AUT) – Oberstdorf (Birgsau) (GER)
The dates:
Transalp: 20-28 February 2016
Casting: 17 January 2016
Apply now!
We will select twelve candidates who will be invited to take part in a casting. The six lucky ones will join us on this unique mega tour through the Alps.
More information about the Transalp 2016 and the application: https://fischersports.com/en_en/transalp2016
Partners and Sponsors of the Transalp 2016:
INFO: Fischer