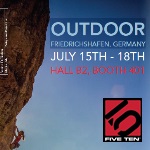 Outdoor is just around the corner and we have lots of exciting new products to show you, from climbing and hiking to water sport shoes.
Outdoor – Hiking: First up in the hiking category we have the 'Access' approach shoe. This "go anywhere and do anything" shoe is the perfect blend of hiking shoe performance and support, with the lightweight material technology of a running shoe.
Rock – Aggressive: An exciting collaboration for Five Ten was developing the 'Quantum' climbing shoe with the Huber brothers. This slightly down turned and aggressive climbing shoe is the stiff performance shoe everyone has been waiting for.
Rock – Neutral: Moving on to a less aggressive climbing shoe Five Ten has developed the 'Stonemaster' and 'Stonemaster Rental'. A comfortable and well-performing shoe from beginners down the gym, to experts who want a technical shoe they can wear all day. The rental has a few key features like the exterior size icons and washable canvas upper making it easy and more hygienic for gym staff to use.
Outdoor – Water: Finally we have the 'Eddy' a great addition to the water sports category. The new sleek profile fits easier into small boats and the Stealth Phantom rubber is super sticky but won't scruff your boat or deck. Not only that but they also look awesome to!
Have a look to Five Ten Summer 2016 previews.
Visit Five Ten at Hall B2 Booth 401- Outdoot Show