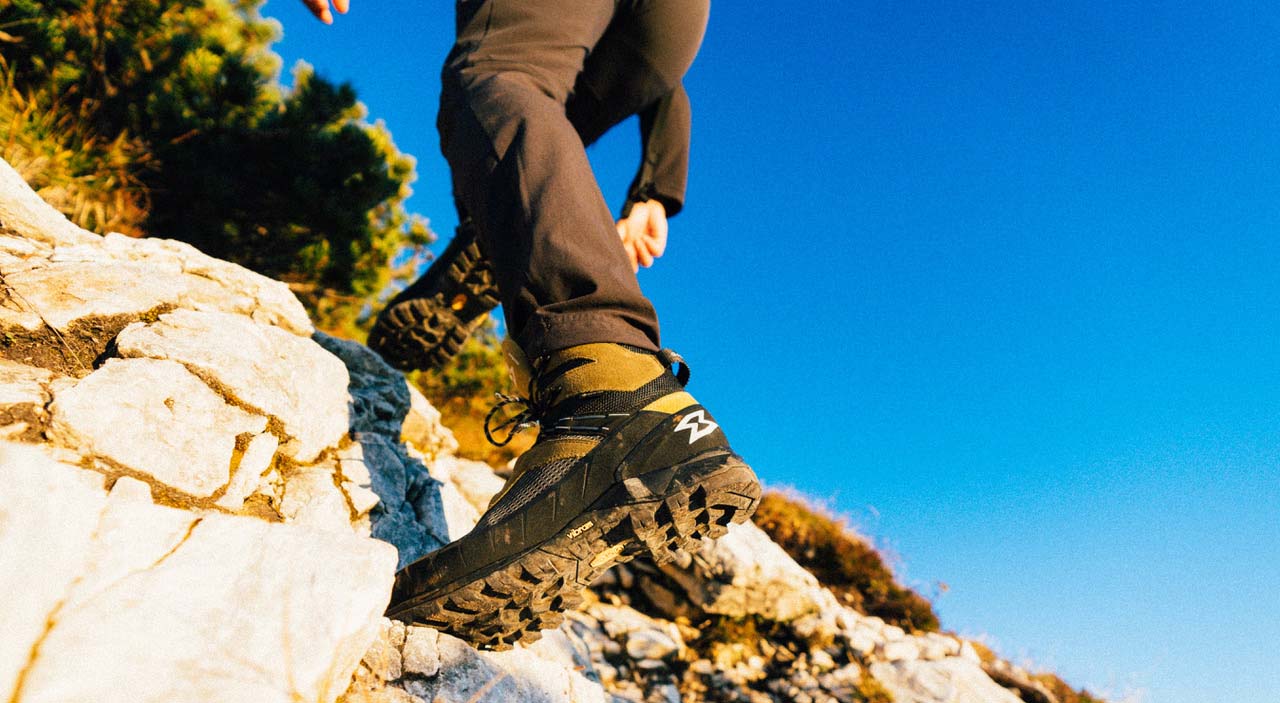 The new Garmont® Tower Trek GTX model was born from the idea of being able to get to the top of the mountain while enjoying the walk, effortlessly and without worries, in order to take your eyes off the ground and turn them to the sky.
This light and safe boot is ideal for multi-day hikes, long and intense walks, including alpine ones, in the presence of rocks and scree and on mixed, wet or slippery terrain. The mid cut design is made to protect the ankle and at the same time to give flexibility and stability for full control in the support phase even with high loads.
The upper combines lightweight anti-abrasion mesh with suede reinforcements in the areas most subject to stress. The 360 ° waistband in supple e-foam with extended carry to the toe protects on rough terrain, while the GORE-TEX® Extended Comfort technology works by isolating the foot from humidity and rain. The Heel Lock technology perfectly encloses the heel, while the lacing extended to the toe with lace and double hooks allows to customize the pressure exerted obtaining the desired fit.
The FrameFlex Lite insole combines an appropriate degree of flexion, ensuring a comfortable, smooth and stable walk. VIBRAM® Apex outsole, with deep caps and DURATREK compound, provides extreme grip and durability. The internal EVA heel absorbs shocks and maintains correct posture throughout the walking phase.
The TOWER TREK GTX® is available in the blue, green and red color variants.

GARMONT CHRONO GTX. THE SHOE CREATED TO FOLLOW YOU IN EVERY EVERY STEP
Built on more than 50 years of experience, Chrono GTX® by Garmont® is the mid model in soft oiled nubuck designed for walks in the green. A classic, a timeless, comfortable and elegant boot that can be used in various contexts, from hiking in the mountains to walking in the city.
The classic small metal parts and the minimal laser processing on the upper make it a modern and precious shoe at the same time. The renewed waterproof GORE-TEX® Extended Comfort Flux membrane protects from water and makes the shoe usable even in uncertain climates. The innovative production method and the use of certified materials used for this membrane reduce environmental impact.
The FrameFlex Lite insole allows a comfortable flexion of the foot and shields from contact with the ground. The Michelin® Off Road sole for the first time combines sustainability with technicality. Hybrid technology recovers unused production waste, giving it new life, without any compromise in grip. The two layers of EVA in the midsole have been enriched with natural coconut fibers for quick and improved absorbency in humid or wet environments.
Even the Ortholite® footbed has been designed to make every single part more sustainable: the Hybrid Plus Recycled technology combines recycled material with high cushioning power for prolonged comfort.
The Chrono GTX® is available in brown, blue, grey or black color variants.

INFO: Garmont