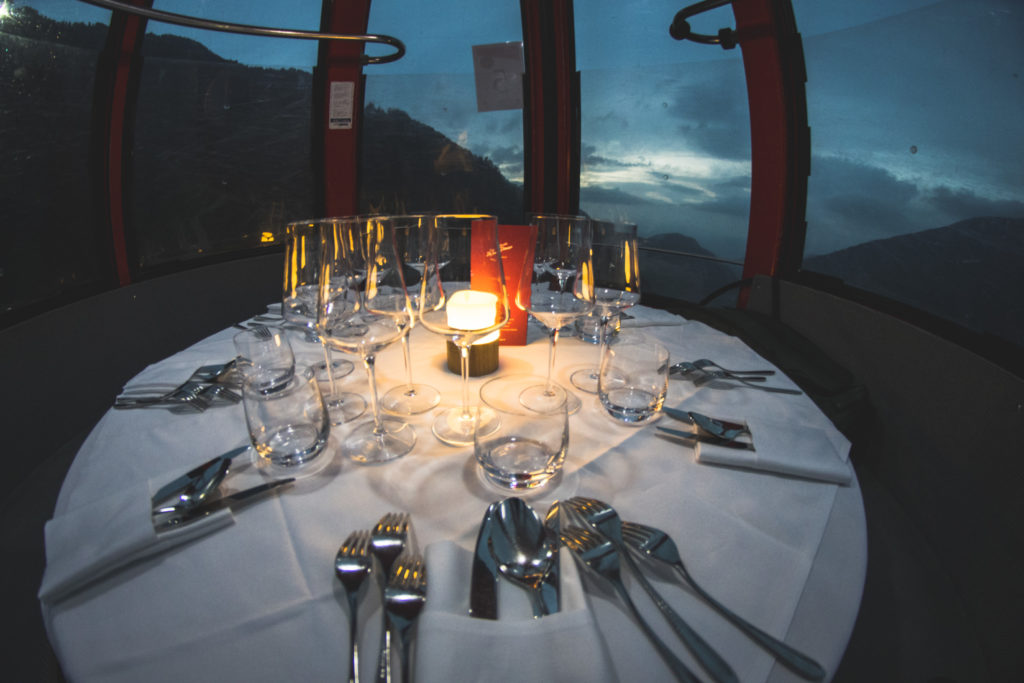 During the summertime in Val Gardena, there are plenty of opportunities to spend beautiful evenings together while enjoying excellent cuisine accompanied by a good glass of wine.
We have selected some events that, although very different from each other, have a strong connection with the territory of this beautiful valley of the Dolomites. Let's start with the invitation to a by now very famous dinner in a…cableway!
Dolomites Skydinner is back: an exciting appointment for fine palates under the stars of Val Gardena, which will take place on July 10.
Now in its 12th edition, the successful format of the event has not changed: elegant tables set in the gondolas of the Mont Sëuc / Alpe di Siusi, suitable for 6 people, in which a 6-course menu will be served, created by the chefs of the ADLER SPA RESORTS & LODGES, ACADIA ADULTS MOUNTAIN HOME, Mont Sëuc Dolomites, Mont Chalet and SUINSOM – Hotel Tyrol. Each dish will be paired with fine wines, in an event in which a form of informal elegance will ensure strong emotions. The evening will be crowned by a splendid view of the Dolomites and musical entertainment during the aperitif, in the valley, in addition to the grand finale, with the dessert served at the restaurant at the top of the cable car.
If the connection with the territory during the Dolomites Skydinner dinner is given by the panorama and the choice of dishes and wines, during the "Sëira dl vin"; you can grasp it from the name of the event.
It is, in fact, a wine tasting – offered along a red carpet, at the pedestrian zone "Bën unì" in S. Cristina – where 20 renowned wineries of South Tyrol will present their fine bottles. The appointment is for July 12, at 07.30 pm, with exquisite wines in addition to various culinary specialties from the traditional cuisine and live music with the bands "Take Off" and "Demetz Duo".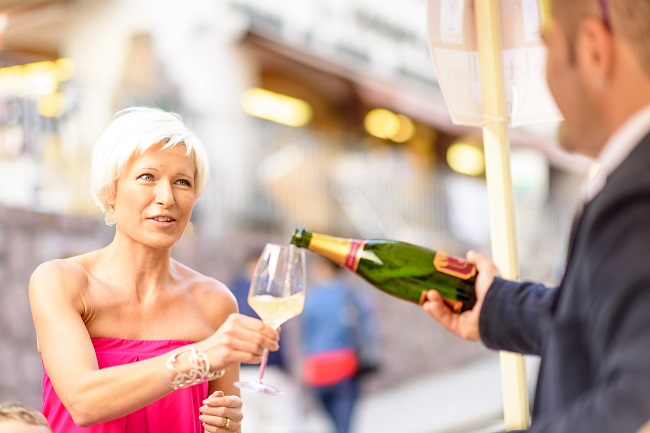 Furthermore, on July 15, from 05.00 pm, don't miss South Tyrol is cooking – event of Show Cooking sponsored by the Tourist Association of Ortisei, in collaboration with the Restaurant Vives.
A gastronomic event on the small Piazza S. Antonio, where the Chef Simone Rondini will prepare three courses on a specific theme. Delicacies can be tasted free of charge by the public.
Last but not least: With DolomiteSushi, Japan meets the Dolomites. Where? In the old tunnel of the Val Gardena train, in S. Cristina, on the 2nd August, when unique creations inspired by the Far East will be offered. In addition to the original Japanese sushi, very special dishes based on local products will be served between 07.00 pm and 10.00 pm.
Every Friday in July and August there will be exclusive evenings in Ortisei "Aperitif Urtijëi" from 6:00 pm to 08.30 pm with music and bubbles.
INFO: Val Gardena