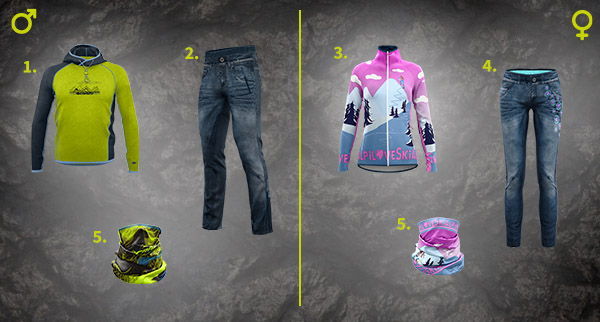 Autumn is back and as the leaves fall, the first of the chilly weather arrives. To tackle the coming months, Crazy introduces its vibrantly colourful, athletic-cut men's and women's wear in high performance fabrics. The Italian brand's technical quality is as high as ever thanks to the Crazy Fast&Light philosophy which makes wearing its products an ultralight experience.
PULL DIRECTOR
A comfortable, casual hoodie, Crazy's Director hoodie is the perfect companion for outdoor pursuits. Made from HP 3D fleece commissioned by Crazy from its suppliers, it is exceptional breathability as a result of honeycomb pockets that facilitate the absorption and dissipation of moisture (transpiration). The hood has an adjustable elastic drawstring and close-fitting wristbands complete the look of this very comfortable top as well as making it very comfortable.  Recommended retail price: 120 euro.
PANT SUPER
A vibrantly colourful styling masterclass for active outdoor sports fans that stands out from anything else on the market in the finest Crazy tradition. The Crazy Super Pants are made from printed Endurance technical fabric as is the case for most of the mountain wear pants in the collection. This is a breathable, windproof, water-repellent soft shell. The elastic waistband is comfortable yet stays in place while the zipped bellows-style leg ends makes them suitable for footwear for all kinds of activities. Both hand pockets are zipped also. Recommended retail price: 160 euro. 
PULL WONDER MAGIC
Bright colourful top whose vibrant pattern hides a serious vocation for adventure: perfect for outdoor pursuits thanks to its impressive technical fabric.  The Crazy Wonder Magic top is ideal for trekking, snowshoeing and hiking. Made from soft, cosy HP fabric, it has a front zip with a close-fitting high neck to protect from the elements, and both its lower hem and wrist cuffs are elastic-edged. The pockets are zipped. Recommended retail price: 130 euro.
PANT WONDER MAGIC
Combining fashion with the outdoors has always been a Crazy prerogative and the exclusive jeans-style Wonder Magic Pants are iconic Crazy originals.  Comfortable and always great looking, they are designed for outdoor pursuits but so stylish, you can wear then at any time of the day. Made from soft Vuelta fleece fabric, the Wonder Magics are ergonomically tailored to hug the body like colourful leggings. Recommended retail price: 120 euro.
NECK GAITER LIGHT
The Crazy Light Neck Gaiters are made from light multiuse fabric in the same colours and prints as the rest of the collection. It can be used as a hood, neck gaiter or a light sweatband. Made from Primaloft yarn, it is seamfree. Recommended retail price: 23 euro.
For more information: www.crazy.it