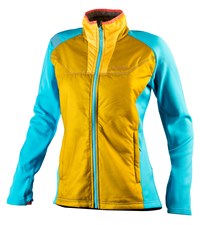 At ISPO MUNICH 2014, the annual European exhibition dedicated to winter sports, La Sportiva will present the totally refreshed winter collection in its main lines: Winter Apparel (technical mountainware) Hardware (ski boots and skis for ski mountaineering) and Footwear (footwear dedicated to the colder months of the year).
With winter in mind, La Sportiva's primary focus is on the world of ski mountaineering races, signalled with the introduction of the innovative Stratos boot in the 2009 season and continuing from year to year with the completion of the range which now includes ski accessories and technical clothing: making sure to keep the emphasis on innovation and technology, with the clear intention to raise more than a few inches on the performance bar and to cater for those who venture into the mountains in the winter months. Everything you need is now labelled La Sportiva.
Today, five years after entering the winter market, the company's commitment to the world of ski mountaineering races remains as high as ever thanks to the complete renovation of the race apparel line and the evolution of the Stratos project: adapted and declined in "SYborg", a highly powerful but more accessible product aimed at enthusiasts constantly looking for lightweight, fast competition gear.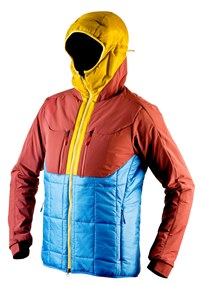 However, the company's focus on all mountain sectors, has required a shift towards a broader concept of collection, which keeps ski mountaineering as its centrepiece, but which expands in a direction where versatility and specificity come together to meet the consumer needs in a wide range  of different sports activities: hiking, ice climbing and winter running.
The clothing line has been enriched with the addition of specific mountaineering products such as the Trango outfit (jacket and trousers), created following the technical advice provided by mountain guides and which combine freedom of movement comfort with water-repellency and abrasion resistant qualities. Latok and Halley Primaloft Jkt, the new line of versatile, thermal clothes that make extensive use of Primaloft padding in different weights also fit perfectly in this product range.
The new positioning of the company between specificity and versatility of use is summarized in the concept of Mountainware: a collection that can provide everything you need to enjoy the mountains at its best, whether you love to compete in races or glide leisurely on powdery snow, whether you have a passion for north face climbing walls or whether you choose to continue running with the snow and ice under your foot then today more than ever:
La Sportiva is "for your mountain."
Info:
La Sportiva