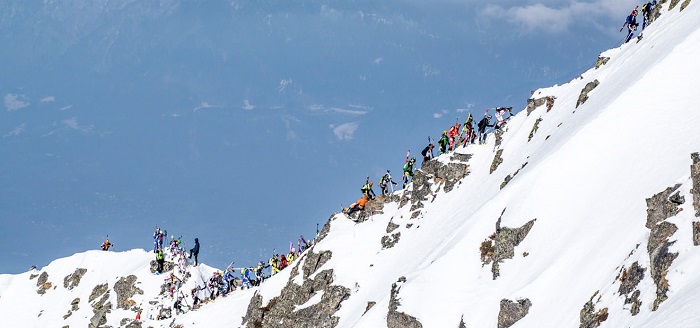 It is a unique opportunity for Karpos to play a leading role at such a prestigious event, as Gioia Cremonese, director of Karpos, explains: "Reaching this agreement with the organizers of the Pierra Menta is a very important milestone for Karpos and a validation of the work we've done over the years.
Today the Italian brand signed a 3-year sponsorship contract
Karpos, a young technical outdoor clothing brand headquartered at the foot of the Dolomites, today became the main sponsor of the next three editions of the Pierra Menta, the legendary ski mountaineering race of the Grande Course circuit that takes place every year in the Arêches-Beaufort mountains in Savoy, France.
The Pierra Menta, also known as "La Pierra," is an annual gathering of the best ski mountaineers in the world. Its format, unchanged since 1985, continues to inspire the participating athletes who challenge each other every year on a unique and incomparable route that requires great endurance on the climbs and impeccable technique on the descents.
More than 600 participants in the "youth" and "adult" categories climb more than 10,000 meters in elevation in just four days, contending with sharp ridges and steep slopes. La Pierra is not just effort and sweat: its typical festive atmosphere and the extraordinary enthusiasm of the public make it a can't-miss event for all winter sports enthusiasts.
These are the key reasons behind Manifattura Valcismon's decision to present its Karpos brand as the main sponsor of the next editions of the Pierra Menta. Drawing on a family tradition of more than 70 years in the technical sportswear sector with the Sportful and Castelli brands, in just a few years Karpos has carved out a space and a well-defined identity among mountaineers, climbers and especially ski mountaineers. In this year's edition of the Pierra alone, three Karpos athletes finished on the podium: Xavier Gachet, Didier Blanc and Katia Tomatis.
It is a unique opportunity for Karpos to play a leading role at such a prestigious event, as Gioia Cremonese, director of Karpos, explains: "Reaching this agreement with the organizers of the Pierra Menta is a very important milestone for Karpos and a validation of the work we've done over the years. In reality, not very many years, as we are still quite young, having just celebrated our first 10 years, but they have been very intense. The family spirit that has always led us to pursue our passions over the 70 years of our company's history is the same spirit that we found here in Arêches-Beaufort, among the organizers, the staff and the public. We are honored to have the opportunity to collaborate with La Pierra and to move forward and achieve results together."
INFO: Karpos