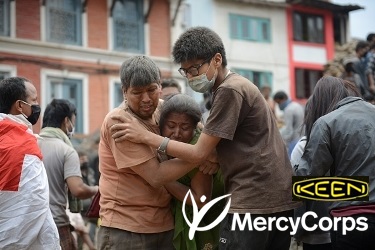 On April 25, a massive 7.8-earthquake shook Nepal near Kathmandu taking the lives of at least 3,200 and injuring more than 6,500. The worst earthquake in 80 years in the area has also left thousands displaced and struggling to survive, while severely damaging infrastructure, communications, and more.
KEEN, manufacturer of original hybrid footwear has partnered with Mercy Corps, a leading global humanitarian organization, to help bring relief to communities in Nepal through Mercy Corps' Nepal Earthquake Response Fund.
For more – and to donate – please check: www.mercycorps.org/people/keen/NepalEarthquake
We invite you to join KEEN in helping provide immediate help to survivors in Nepal and enable emergency responders to supply urgent needs like food, water, and shelter in their efforts to help the people of Nepal start rebuilding their lives.
KEEN will match every dollar raised through the KEEN Mercy Corps donation page up to $20,000 – with a total goal of raising $40,000. As a founding member of the Mercy Corps Disaster Response Corps, KEEN has provided more than $150,000 since 2013 to ensure when a disaster strikes Mercy Corps has the ability to respond immediately to meet urgent needs for food, water and shelter, and stay beyond the emergency to partner with communities for their long-term recovery.
KEEN is encouraging their employees and fans to support Mercy Corps' disaster relief efforts in Nepal. It is our hope that you can join this effort and help spread the word through your networks and outreach.
INFO: KEEN
Mercy Corps