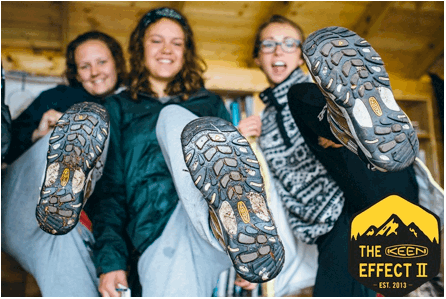 After its successful inaugural season in 2014, KEEN unveils its second year of the KEEN Effect program – the KEEN Effect II will award 10 grants to not for profit organisations around the world. KEEN is dedicated to building stronger communities and a healthier planet, and through the KEEN Effect II fan-activated grants program KEEN will fulfil that promise by supporting organisations that are getting people outside to responsibly enjoy the outdoors.
In 2014, the KEEN Effect  awarded  $100,000 in grants to 25 not for profits in 16 states in the U.S., and seven countries around the world. In doing so, more than 23,500 people were directly engaged in outdoor recreation in the program's first year. Following last year's success, KEEN aims to engage with even more of its fans who share a love of the outdoors and a passion to preserve it for future generations.
"The KEEN Effect offers us an exciting opportunity to engage with our fans, learn about organisations and projects they are passionate about, and then support some of the groups in their backyards," said Perry Laukens, KEEN Marketing Manager EMEA. "Through the KEEN Effect, our eyes are opened to hundreds of incredible organisations around the world who are inspiring responsible outdoor participation and we are thrilled at the opportunity to help inspire the next generation of environmental stewards."
Positioned under KEEN's Hybrid.Care giving program – which has donated more than €6 million  in cash and resources to non-profits around the world since 2004 – the KEEN Effect encourages KEEN fans and the general public to nominate non-profit organisations that align with the company's outdoor-focused, core values. Through the KEEN Effect II, KEEN is looking forward to supporting organisations that inspire responsible outdoor participation as a way towards building strong communities, creative and sustainable thinking, and introducing new audiences to the outdoors.
Last year, 25 non-profits received a total of $100,000 to help bring their inspiring projects to life. One of those organisations, Outfit Moray from the UK, received $2,500 to help create opportunities for local families and adults to engage with the outdoors and introduce them to activities that they never had access to before.
"The KEEN Effect grant enabled us to launch our 'Explore the Outdoors' programme, which gave 24 local people the opportunity to take part in outdoor adventures that they had never tried before. The grant meant that the activities were accessible to everyone, and helped people to build new skills, discover new places on their doorstep, and learn how to enjoy the outdoors responsibly,"
said Caroline Bate from Outfit Moray's.
To learn more about the KEEN Effect II, please check out: www.keeneffect.com or contact us through keeneffect@keenfootwear.com. Applications received by March 1 will be considered for the first round of grantee winners announced on Earth Day, April 22. Applications filed between March 1 and Aug. 1 will be considered for the final round of winners to be announced on National Public Lands Day, Sept. 26. Applications are accepted year-round.
INFO: KEEN