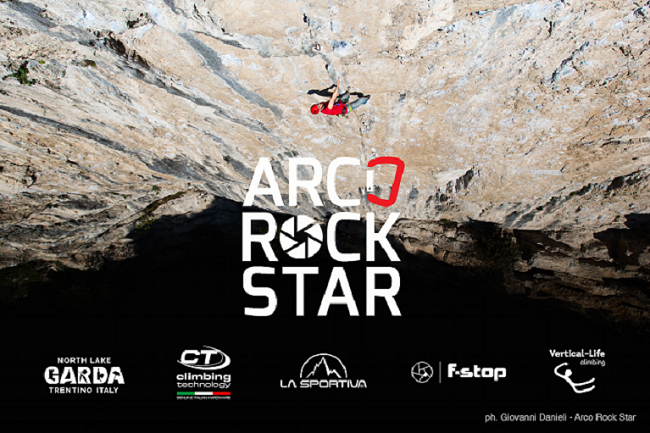 The Italian Company, leader in the outdoor world, will sponsor for the first time Arco Rock Star, the international contest dedicated to climbing photography. From 21st to 22nd April in Garda Trentino.
On the 21st and the 22nd of April, the extraordinary vertical walls of Garda Trentino will be the scene of the third edition of the Arco Rock Star, the international contest of climbing photography.
Two days during which athletes and photographers will go in search of the photo that describes the athletic gesture, but also the landscape and everything that revolves around climbing – from the fatigue to the smiles, from the sunsets to the beers. In short, a story of passion for climbing and for photography.
Two categories, Pro, who are selected by invitation among the leading names in the outdoor photography all around Europe and beyond; and Open, where people can soon register in our website www.arcorockstar.it or directly at Arco, before the event.
For each team, a photographer and maximum three athletes that will try to achieve the coveted prize.Celebrating the La Sportiva 90th anniversary, Arco Rock Star will run a special contest dedicated to the History of climbing and alpinism "La Sportiva Anniversary".

Open to both the PRO and OPEN categories, the "Anniversary" contest will be a tribute to climbing and alpinism of the past, supported since the beginning by the Trentino based brand. The award-winning, climbing-themed photo will be the one that, with greater imagination, emotion and beauty, will tell the essence of mountaineering of the past through atmosphere, clothes or equipment. No thematic constraints besides this.
Starting on 21st April, Arco Rock Star takes place within the Adventure Awards Days, the International Festival of exploration, the seventh edition will be held from April 20 to the 22nd in Garda Trentino: adventure and shows, activities and meetings with great explorers, adventure lovers and athletes – including some important names from the Team La Sportiva, will meet to share stories, experiences and passions.
An event supported by Garda Trentino,La Sportiva, CT Climbing Technology and F-Stop Gear.
INFO: La Sportiva
Arco Rock Star