Resole Platform is the new patented technology by La Sportiva that allows easy, fast resoling, without any compromise in the performance of the shoe.
In 2022 La Sportiva took a further step forward in its sustainability path with the introduction of Resole Platform, the first technology in the world that allows a complete and safe resoling of approach footwear. Since 1928, the year of foundation of La Sportiva, resoling has always been part of the culture of the Trentino company and all its products from the Mountaineering and Climbing lines are designed and manufactured with the aim of extending their life cycle through the replacement of the tread once it is worn out.
The culture of resoling has always been one of the pillars of La Sportiva and the introduction of Resole Platform and TX2 Evo are the best way to celebrate the opening of this artisan practice to the world of Approach footwear too.
This innovation favours a path of education and awareness in the consumer, who can continue to use the shoe that has adapted well to their foot and avoid replacing a product that is worn, but still in good condition, thereby reducing their environmental footprint.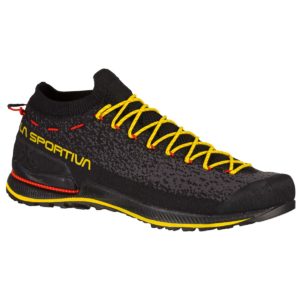 TX2 Evo is the lightest model in the La Sportiva Approach range, developed in Val di Fiemme to meet the needs of climbers from all over the world. Made using a high percentage of recycled components, thanks to the implementation of the Resole Platform technology, TX2 Evo is a truly unique product in the Outdoor panorama.
The exceptional grip and precision during climbing are guaranteed using the Vibram® IdroGrip compound and by the wide Climbing Zone that characterizes the tread. The Knit upper, made using 100% recycled yarn, guarantees great comfort and a technical and precise fit thanks to the absence of seams and the integrated tongue. The lacing system is inspired by the iconic Mythos model and guarantees a technical and precise fit using 100% recycled laces.
The resoling of this model is a service offered by all the Authorized Resolers of the official La Sportiva network. The La Sportiva resoling program provides for a careful choice and selection of highly specialized laboratories. Each craftsman is instructed directly by the Trentino company and supplied with all the original spare parts specially designed for perfect product regeneration.
INFO: La Sportiva