Enjoy the mountains with responsibility and a sustainable approach. This is the starting point for the concept from which the Spring / Summer 2022 collection of La Sportiva, a leading company in the outdoor footwear and technical clothing sector, has been developed.
Sustainability is today a trend that crosses sectors and product categories, but to be effective, it requires a strong corporate commitment at all levels. "The mission of producing outdoor footwear and clothing, while remaining faithful to the values of a family business with almost a century of history, is what motivates us every day.
Passion guides us and our passion is the mountains: respect for the environment is part of our DNA, it is what we wish to transfer through our products and daily actions. " Says Giulia Delladio, Corporate Marketing Director. "For La Sportiva, sustainability means collecting a legacy, that of the mountain environment that surrounds us, and that of the journey made so far, guided by
research, quality, passion, people and innovation. Environmental sustainability is the basis of these five corporate pillars, the fundamental driver that leads us to seek low-impact solutions capable of extending the life cycle of our products. "
La Sportiva has already defined this approach as "ECOLUTION" a few years ago, a theme that has become a process and permeates every activity of the company, starting from the design phase of new products, engaging the R&D areas in the search for eco-friendly raw materials, biodegradable, eco-compatible or recycled, to extend to all stages of the production process, with the aim of progressively reducing CO2 emissions, processing waste from production and packaging. The commitment to an approach as sustainable as possible, to the production of new collections and products that maintain their degree of innovation but from an eco-compatible perspective, is well expressed in the collection recently presented to the sales network during the Digital Sales Meeting and which will be available on the market starting from spring 2022: the Spring /Summer collection represents a decisive leap forward in terms of eco-sustainability. In fact, most of the new apparel garments are made with the use of organic cotton and recycled and bio-degradable polyester and aim to reduce the impact of packaging thanks to a significant reduction in plastic packaging with compact hangtags printed with eco inks on recycled paper.
On the footwear side there are many new additions and technical measures to reduce the impact on the planet: the new TX HIKE hiking line, for example, uses 65% recycled materials while the laces used on the climbing and approach lines are made of recycled material. The laces and insoles of the running line are also made with components derived from the reuse of raw material within the production cycle. Not only that, through the practice of resoling that climbers know well, La Sportiva has always invited people to regenerate and give a second life to climbing boots and shoes. The real news, however, is that from today even approach shoes can be resoled thanks to the innovative RESOLE PLATFORM construction present on the innovative TX2 EVO shoe. The resoling will be possible by contacting a network of professionals, highly qualified artisan workshops, authorized and trained by the technicians of the Trentino company. Resolve, reuse and renew is becoming more and more the company mantra.
"Reducing our impact with virtuous best practices, always evaluating the sustainability of our choices and improving the quality of life of our community, are values that we have carried with us since 1928. They are transmitted and strengthened from generation to generation within our family influencing our collaborators and the external realities that work with us. We still have a long way to go, we are aware of it, but by working together in a sustainable direction, we can be agents of change and make a difference. And if we have learned something from mountaineering, it is that no peak is impossible to climb, if you climb together, as a roped party. " Adds Lorenzo Delladio, CEO & President of La Sportiva.
The other major theme to which the company has paid particular attention is the new hiking collection which, in an era of social distancing and the search for well-being in contact with nature, has seen a dramatic increase of practitioners and mountain enthusiasts. The new and completely revised X-Cursion line is dedicated to them and their mountain interpretation.
Visit La Sportiva Digital Show Room.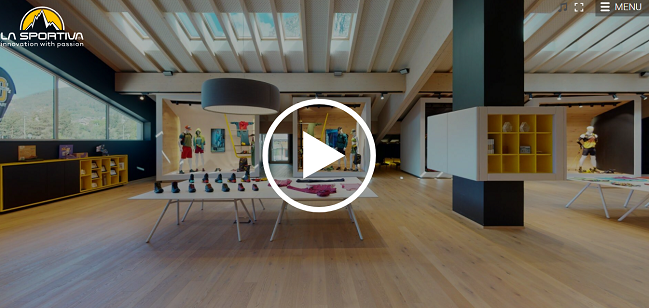 La Sportiva: FOR YOUR MOUNTAIN, FOR OUR PLANET.
INFO: La Sportiva