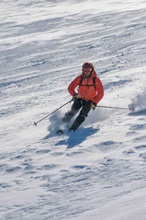 We are pleased to announce a partnership between Mammut and International Mountain Guide Bruce Goodlad and his co-owner in Avalanche Geeks Mike Austin.
When choosing partners we look for the most experienced and professional mountaineers and skiers and educators who can share the Mammut story with their guests and students.
Bruce Goodlad has been a guide for 19 years, is an author and has worked as a mountaineering instructor in the UK prior to that. He has guided on skis and foot throughout the world working from Antarctica to Greenland. Bruce is a former Technical Director of the British Mountain Guides (BMG) where he was influential in the development of their avalanche and ski guide program.
In recent years Bruce has particularly enjoyed exploring remote quiet areas off the beaten track and plans to visit Japan this year to explore a rarely visited ski touring area, explore new areas of the Alps and Northern Norway and make a 4th visit to Svalbard where he hopes to ski at 80 degrees north having managed 80 south in the Ellsworth Mountains of Antarctica.
Mike Austin is Bruce's co-owner in the UK's leading avalanche education company Avalanche Geeks running courses in Scotland and the Alps. Mike is an AMGA (American Mountain Guides) Assistant Ski Guide. He is a Professional Member of the American Avalanche Association (AAA), a collective group of dedicated professionals engaged in the study, forecasting, control and mitigation of avalanches. Mike has guided on ski for over 20 years, primarily on the west coast of North America from Alaska to California as well as Norway & Antarctica. Mike holds Level 3 avalanche certification.
Bruce and Mike will be working with Mammut on product development, social engagement specifically spreading the avalanche safety message as well as sharing their mountain experiences with their many students and guests.
You can follow their activities on http://www.mountainadventurecompany.com and http://www.avalanchegeeks.com