Orvis is an American brand with a deep connection to adventure and to the outdoor world, leader in the fly fishing segment, for the new model PRO Wading Boot has chosen Michelin. It's fly fishing a way to explore and connect with the world.
The PRO Wading boot built on an outsole compound specifically designed for fly fishing. This revolutionary new sole design is an industry disrupting advance in wet rubber traction.
The Michelin outsole offers 25% better abrasion resistance and a resounding 43% improvement in wet rubber traction. The outsole inspired by Michelin XM27 tire, it offers a wider footprint for stability, a higher ratio of surface contact, and a sculpture tread that reduces shock and improves pressure distribution. The two-layer midsole has a co-molded ESS plate that provides improved stud retention and torsional stability. The shock absorbing Phylon midsole improves "river feel" and compresses less than standard EVA midsoles. Orvis partnered with Ortholite to create a 3D molded X25 insole designed for high-impact sports, delivering maximum comfort and arch support. An industry first cast PU upper eliminates seams while providing a zoned cage for added stability, grip, and extreme abrasion resistance without the added bulk.
The boot is higher cut for ankle support and lined with closed-cell foam. Scratch rubber at the toe cap and heel for abrasion resistance, an oversized heel pull for easier on-and-off, and tightly woven laces reduce broken laces.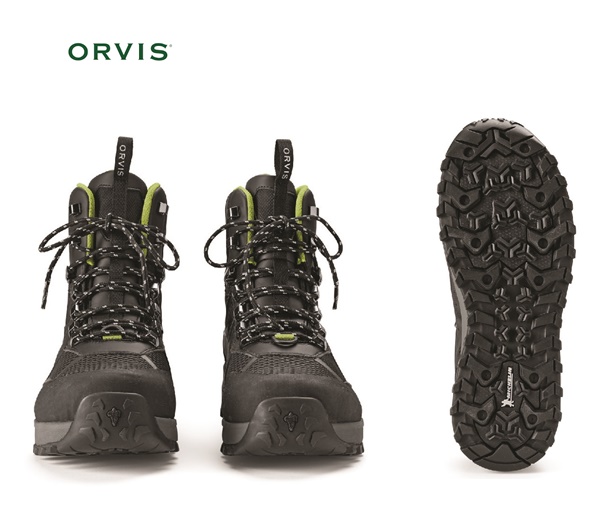 Some characteristics:
Industry-first Michelin® Outdoor Extreme outsole for best-in-class wet traction
12 strategically placed locations for optional studs
High-density Phylon midsole offers optimal comfort-to-weight ratio with minimal breakdown over time
3D molded Ortholite X25 insole for ultimate support and comfort
Industry-first PU-casting construction eliminates seams in high wear areas and drastically improves durability
Quick-drying Clarino microfiber upper for maximum strength-to-weight ratio
Scratch rubber toe cap and heel for superior protection
Large heel pull for easy on-and-off
High-density laces for extended durability.
INFO: Soles by Michelin