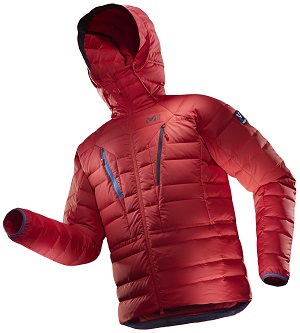 MILLET, the iconic French based manufacturer of technical outdoor apparel and equipment, is proud to announce Synthesis Construction – a weaving technology used to form seamless baffles in down jackets, resulting in protective outerwear with the greatest warmth to weight ratio the brand has ever designed.
In an effort to create a down jacket that was warmer and more durable than those with traditional seams, MILLET's engineers reimagined the design process. Rather than sewing or gluing two shell fabrics together to form baffles, Synthesis creates baffles by weaving fabrics together, then stuffing baffles with premium, 700 fill-power hydrophobic KDry Down.
What does Synthesis Construction mean for committed, outdoor adventurers?
Jackets are lighter, as thread or glue isn't required.

Jackets are more durable, as the double weave complex is stronger than thread or glue.

Jackets are warmer and have greater water repellency, as a weave is tighter than traditional threaded seams.
"The added benefit of the Synthesis Construction is the complete downproofness assured, because the weaving of pre-baffles prevents pieces of feathers from poking through," explains Frederic Fages, Millet Brand Manager. "Additionally, we designed the cuts of jackets to avoid seams on shoulders and under arms. The Synthesis jackets are truly remarkable designs, from start to finish."
This technology will be introduced in select styles within Millet's limited edition Trilogy Series for FW16. Highlight product info below.  
TRILOGY SYNTHESIS DOWN HOODIE
Lightweight, compressible, insulated jacket designed for technical mountaineering and modern alpine ascents. Exclusive synthesis concept: seamless baffles for warmth and a new level of water repellency. Available for men and women.

Fabric: Pre-baffle Taffeta 20D

Insulation: KDry Down – water-repellent duck down, 700 fill-power

Alpine fit

Mountaineering hood: helmet-compatible, protective visor, panoramic vision

Two quick-access chest pockets, two handwarmer pockets, large zipped inside pocket

Adjustable hem, collar, and cuffs

Weight: 17oz

MSRP: $350
INFO: MILLET