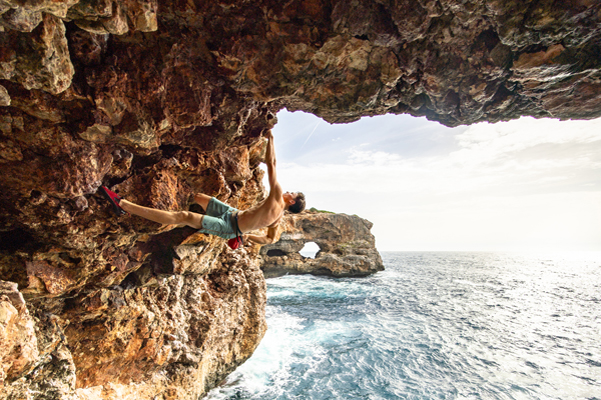 prAna Ambassador Nathaniel Coleman faces his biggest challenge as he attempts to earn a spot on the first Olympic US climbing team and qualify for the games in 2020. But first is a gut check and some deep water soloing with fellow ambassador Chris Sharma and Rannveig Aamodt in Mallorca.
Climbing will be premier in the 2020 Summer Olympics in Tokyo. In addition to climbing, the International Olympic Committee (IOC) added karate, skateboarding, and surfing. 40 climbers will make it to the Olympics. 20 women, 20 men. They will compete in three disciplines: sports climbing, bouldering and speed climbing.
prAna Athlete Nathaniel Coleman, born in 1997, started climbing early on. At the age of 9 he set foot to a boulder gym in his hometown Salt Lake City, Utah, for the first time. His passion for climbing – in the gym as well as outdoors – evolved quickly. During his studies at the University of Utah he competed in numerous events and took home gold medals in 2012, 2014, 2015 and 2016 from the USA Climbing Youth Bouldering Nationals. Coleman also secured first place at the Bouldering Open National Championships in 2016 and 2017.
To prepare himself mentally and physically for the Olympic qualification, he travelled to a very special place: Mallorca – where "hills and mountains collide with the ocean". Together with prAna ambassadors Chris Sharma and Rannveig Aamodt he discovered the Spanish island, explored this very different feeling of exposure within deep water soloing and tested his limits.
As qualifying rounds for the Olympics already began, Nathaniel will have to compete in several events in order to make it to Tokyo 2020.
Nathaniel's path to the 2020 Olympics:
Meiringen, Switzerland – Apr 5-6 (17th place in the overall ranking, best of the US team)
Chongqing, China – Apr 27-28
Wuijang, China – May 4-5
Vail, Colorado – Jun 7-8
Villar, Switzerland – Jul 5-6
Chamonix, France – Jul 12-13
Hachioji, Japan (World Championships) – Aug 11-21
Kranj, Slovenia – Sep 28-29.
The Olympicc Summer Games in Tokyo begin on July 24th, 2020.
INFO: prAna