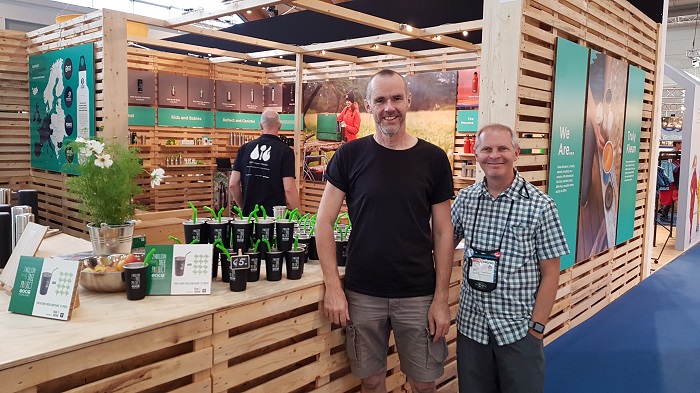 Following a successful 4 days at the show, the European Outdoor Conservation Association (EOCA) is delighted to announce having raised over €25,000 for conservation and gained 3 new members.
Amidst the flurry of activity that saw the staging of the 25th OutDoor show in Friedrichshafen last month, there were fundraisers, cocktails, sandals, press conferences and tree celebrations making it one of the most successful ever for the conservation charity.
In addition to their popular sandal sale during the show, KEEN further supported their Banda Aceh Mangrove planting project through an innovative donation wall on their stand. Guests to their legendary KEENFEST BBQ were invited to purchase branded reusable cups, which not only saved waste and entitled the holder to free drinks all night, but also raised €1500 for the conservation project, bringing the total raised at the show for this long term partner of KEEN to a fantastic €5000.
Klean Kanteen sold special edition steel pints with straws and raised €1600 for EOCA's 2 Million Tree project – contributing another 4000 trees. Bergans of Norway's ReDesign project made new products from old on their stand and raised €424 which equated to 1060 trees and The North Face raised €386 with their ReMade project, equating to a further 965 trees. Gregory Packs ran an impromptu collection during their Happy Hour collecting €202 and Ternua designed a roll away pack to raise money for EOCA, selling out on the first day of the show and raising €750 to fund nearly 1900 new trees.
Not only this, but since the show closed it doors, three new members have signed up to EOCA: UK Tree Tent producer Tentsile, Taiwanese high-tech, functional textile manufacturer SINGTEX and Polish down-insulated gear manufacturer PAJAK.
Finally, the show was one of celebration as the Association announced it had reached – and surpassed – its target of planting 2 million trees to commemorate having raised €2 million in 10 years. Leaving a solid and lasting legacy from the European outdoor industry, the total stands at 2,081,276 trees, with the charity having now funded the planting of 2,668,722 trees since it started in 2006!
Joint General Manager Tanya Bascombe said, "The OutDoor show this year was one of celebration and excitement. A huge amount of money has been raised by and on behalf of EOCA, thanks to our generous members; we have welcomed new companies to the Association and all our members are proving that the industry, by working together, is having a very real and positive impact on our wild spaces'.