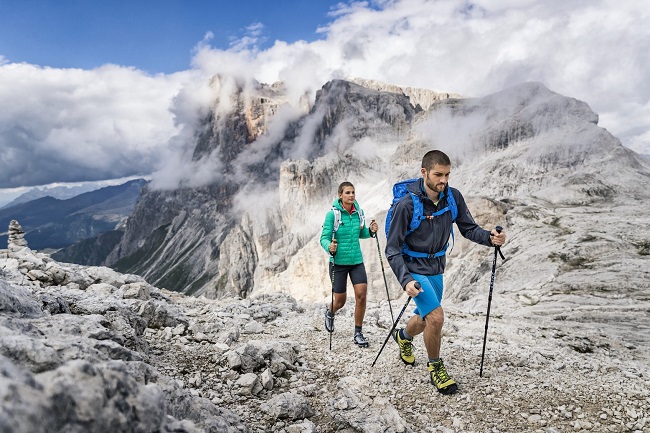 San Martino di Castrozza, in the eastern part of Trentino Region, and in the heart of the Dolomites, is an open air gym for all outdoor activities lovers. In this area, dominated by the majestic Pale di San Martino, you can experience trekking of any kind: one day trekking, trekking from hut to hut, in the wood or on the mountains, on easy paths or on difficult trails, dedicated to experts. Whatever kind of trekking you choose, you will enjoy an amazing view on the surroundings!
If you want to experience the thrills of an itinerant trek, share an Alpine mountain-hut dorm with your hiking companions after a day's walk through the elegant Pale di San Martino and other magic peaks and discover the austere beauty that intrigued foreign travellers and mountain-climbers from as far back as last century, the holiday offer for you is the Dolomiti Palaronda Trek and the Park2Trek Dolomites.
The "Palaronda", in its two versions (with or without vie ferrate) is a perfect opportunity to discover the Pale di San Martino and to enjoy their essence from the sunrise to the sunset.
The park2Trek Dolomites is the ideal solution for those seeking a wild environment where the nature shows its pure beauty and richness at most.
San Martino di Castrozza, Passo Rolle, Primiero and Vanoi also boast lots of trails for a one-day trekking. Don't miss the brand new suspended bridge in Noana Valley, for a trekking immersed in uncontaminated nature, and if you want to experience a via ferrata, try the one in Val di Scala, in Vanoi Valley: It is perfect to learn how to afford such trails and it is particularly appreciated for its feasibility and for its access, which is located immediately next to the street.
INFO: San Martino di Castrozza