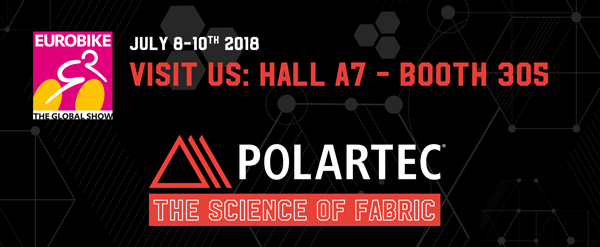 Fabric technology innovators, Polartec, have been protecting outdoor adventurers with their fabric innovation for over a century. Now they are fast becoming a trusted name in the cycling world.
Polartec produces technical fabrics – unmatched in their research and design capabilities and proven to keep cyclists cool, warm, dry and comfortable. It's the reason why so many of cycling's biggest and best brands are now choosing to use Polartec materials in their new clothing.
Wear Polartec Delta in the sun. This cooling, next-to-the-skin fabric uses a specialised elevated knit construction to increase airflow, allow more efficient moisture dispersal, and reduce friction against the skin.
When the days turn cooler, change into Polartec Alpha – a revolution in comfort and ease. Its active insulation and adaptable breathability regulates core body temperature, both during dynamic and static activities. No more adding or removing layers mid-cycle. And when the heavens open pop on Polartec NeoShell – an engineering breakthrough for breathable waterproof technology, with an unrivaled ability to stop water and wind permeation without restricting the release of excess body heat – because what's the point of waterproof, if you're soaked in sweat?
INFO: Polartec