At this year's ISPO, Polartec® proudly announces Power Fill™ – an ingenious discovery that's resulted in an incredibly warm, one-of-a-kind, fill insulation. It's the star of Millet's new generation mid-layer Elevation Hoodie and Jacket, and K Belay Hoodie [pictured] for autumn/winter 2018.
Using a matrix of hollow polyester fibres, engineered into a distinct geometric pattern, Power Fill forms thousands of air pockets allowing warm body heat to be continuously captured and contained inside.
However, it's Polartec's exclusive melting process that makes this fill so unique. The process bonds each fibre, eliminating the need for a scrim or stabiliser – thereby increasing design versatility, durability and drapability as well as providing unmatched warmth.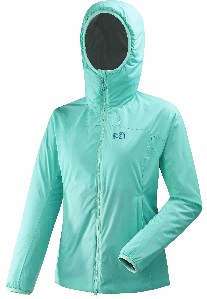 It's the reason Millet has chosen Power Fill for its stunning Elevation Airloft Hoodie. Aimed at demanding alpinists, this jacket is particularly light and more compressible than standard fill. Millet concentrates the warmth of Power Fill in the most important areas, allowing mobility and breathability at the same time.
Millet's new thermal mid layer also offers a hood that can be worn under a helmet, a single large chest pocket for an ultra minimalist design and a double-slider front zip for use with a harness. The perfect combination for serious mountaineers and climbers looking for their next winter challenge.
Power Fill is the premium choice for manufacturers looking for low-weight warmth with hydrophobic properties. Polartec has produced the ultimate insulation that also resists moisture absorption and dries quickly. Power Fill is available in four different weights – 60, 80, 100, 135, 170 and 200 g/m2.
Alongside Power Fill, Polartec will be demonstrating its commitment to fabric technology at this year's ISPO with other leading brands including Musto, Rab, Mammut and Berghaus.
INFO: Polartec